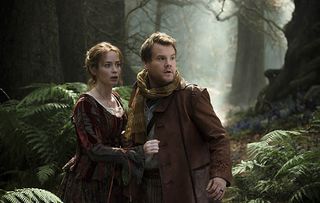 (Image credit: Peter Mountain)
A childless couple (winningly played by James Corden and Emily Blunt) try to reverse a witch's curse in this glossy Disney musical
A childless couple (winningly played by James Corden and Emily Blunt) try to reverse a witch's curse in this glossy Disney musical.
Serving up a good-looking production and a very starry cast, this big screen version of Stephen Sondheim's celebrated 1987 musical is well worth watching, even though it may prove too sweet for Sondheim lovers and too bitter for the Disney crowd.
A handful of Brothers Grimm tales are interwoven with a new story about a baker Corden and wife Blunt on a quest to vanquish vengeful witch Meryl Streep's curse.
Their journey takes them into the stories of Little Red Riding Hood with Lilla Crawford, Jack and the Beanstalk with Daniel Huttlestone, Cinderella with Anna Kendrick and Rapunzel with MacKenzie Mauzy. Johnny Depp does a panto turn as the Big Bad Wolf and Chris Pine goes campily over-the-top as Cinderella's prince, but the leading couple find surprising emotional truth in their characters.
Get the latest updates, reviews and unmissable series to watch and more!
Thank you for signing up to Whattowatch. You will receive a verification email shortly.
There was a problem. Please refresh the page and try again.