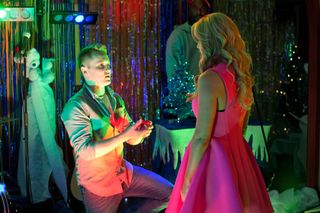 When Nico spots Jason buying flowers, she thinks they're for her but then he surprises Holly with them at school. Nico's delighted when she then finds the exact same bunch of flowers in her locker and thinks they're from Jason… but they're from Alfie. Later, at the Christmas party, Alfie greets Nico but she ignores him, looking for Jason. At that moment, Jason stops the music and tells the crowd he's going to propose to his 'special girl'. Nico thinks he's proposing to her and says "yes" - then realises Holly is stood behind her…
The crowd laughs at Nico, who storms out, shoving Holly on the way through. Holly's bag spills open and Nico swipes her keys. Robbie and Alfie watch the events unfold with jealousy. Later, Holly gets home and is horrified that her moisturiser has been replaced with a tub of worms!
Leela's heart skips a beat when Cameron invites her for lunch but she ends up locking horns with Celine. Ziggy's drunk at The Dog wondering whether to call Tegan, and catches the eye of Ellie, who gets him a drink on the house. When Tegan goes to find Ziggy, she's heartbroken at what she discovers...
Also, Mrs St Claire asks John Paul not to tell anyone about what he's found - but she thinks he's gone back on his word when she sees him talking to Nancy. And Ste blames Tegan when he realises Leela and Peri's stuff is gone.
Get the latest updates, reviews and unmissable series to watch and more!
Thank you for signing up to Whattowatch. You will receive a verification email shortly.
There was a problem. Please refresh the page and try again.