Junior Doctors: On the Front Line – BBC1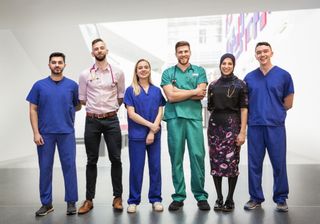 (Image credit: BBC/Ryan McNamara)
BBC1's new documentary series Junior Doctors: On the Front Line follows six junior medics as they start their placements at Salford Royal Hospital
At Salford Royal Hospital, six junior doctors (pictured above) are finding out what it's like to work for the NHS, as we see in BBC1's new series Junior Doctors: On the Front Line.
Filmed over Winter, the series reveals the challenges the junior docs face on a daily basis and how they deal with the pressure of holding people's lives in their young hands.
As Zohaib, 25, is getting to grips with a busy geriatrics ward, Luke, 26, is on Ear, Nose and Throat and learning quickly the hands-on procedures he needs to be able to do on his own.
Sofia, 24, faces her first ever night shift where she is the first port of call for 150 patients over six wards.
It's a steep learning curve but one Sofia seems to handle extremely well.
Zohaib is in for a shock when he's asked to treat an elderly patient who's been having trouble going to the toilet!
'I have to examine a patient's back passage and give them an enema, which will soften the stool,' he says.
'It's not very nice!'
Luke, meanwhile, is called to help an 84-year-old man whose nosebleed has lasted for two hours.
For Luke, it's his worst fear.
'The only time I've ever felt close to vomiting as a doctor was with a really bad nosebleed,' says Luke.
'It was just coming and coming.
'I never imagined there was that much snot in a human body!'
Available as a box set on BBC3 Online and this episode will be shown in Scotland and Northern Ireland at 11.35pm.
TV Times rating: ***
Get the latest updates, reviews and unmissable series to watch and more!
Thank you for signing up to Whattowatch. You will receive a verification email shortly.
There was a problem. Please refresh the page and try again.