Karen and Valerie have a medical problem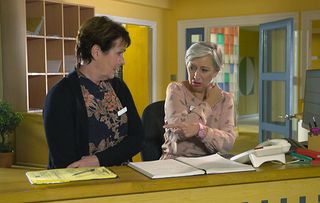 (Image credit: BBC)
The pair can't stop itching!
It's another freezing cold morning at The Mill and Valerie and Karen squabble over who should wear the office cardigan. In the end, Karen nabs the cardigan; however, she starts to become extremely itchy after putting it on…
Meanwhile, Valerie notices Karen's itching and starts to feel itchy herself... then Valerie accuses Karen of having nits! Karen quickly shuts down Valerie's accusations and tries to get to the bottom of her itching. Later, Ben asks both the ladies to stop scratching as it's making patients feel uncomfortable. Karen suggests that she and Valerie eat mango as it's a anti-histamine. However, Karen's itching gets worse and she begins to come out in a rash. She runs Zara who tells her a flesh-eating bacteria has been going around…
Get the latest updates, reviews and unmissable series to watch and more!
Thank you for signing up to Whattowatch. You will receive a verification email shortly.
There was a problem. Please refresh the page and try again.