Is Leah ready to find love again?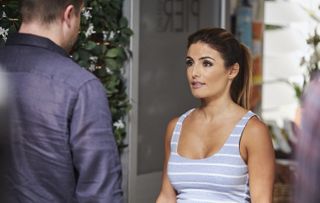 Can a visitor named Nick sweep Leah off her feet?
Leah's acting out of character and Roo is keen to know why. While the pair chat in The Diner, Leah is chatted up by a new arrival called Nick. Leah is uncomfortable by his advances, but Roo encourages her to take up his offer of a date and have fun. Will Leah take Roo's advice?
Back from their trip to the cove, Kat can't wait to escape Robbo, after discovering the photo he has of her. Kat begs Scarlett not to say anything. Scarlett agrees, but she tells Kat that she thinks Robbo's been lying about his amnesia. Kat can't help but act on edge around Robbo and he begins to notice her strange behaviour. Kat goes to Tori and asks if she can help prove if Robbo's amnesia was a lie or not. Tori supports Kat's requests and heads to the station where Robbo has agreed to take a lie detector test. Will they finally find out the truth about Robbo?
Justin has good news - he has finally found a buyer for Salt! Tori isn't moved by the news as she's still hurt by Ash's actions. She explains what happened to Justin, who isn't exactly thrilled by the way Ash is treating his sister and gives him a piece of his mind. Later, Tori tracks down Kat and tells her that, in time, she hopes they can re-build their friendship.
Meanwhile, Justin meets Felicity, the perspective buyer of Salt who tries to seal the deal by making a pass at him! Later, Tori and Justin meet up for a drink and Tori tells her brother it's obvious he has feelings to Scarlett. It seems like the feeling is mutual, as Scarlett plucks up the courage to go to Salt and tell Justin how she feels. However, when she arrives, she sees Justin kissing Felicity!
Tobi Oredein is an award-winning women's lifestyle journalist, media entrepreneur and international public speaker based in London, who focuses on race, feminism, beauty politics & popular culture. Tobi has been commissioned by Buzzfeed, British Glamour, Grazia, Elle UK, Fader, The Debrief, The Independent, The Pool, Stylist, Vice and others. She has also interviewed public figures such as Ryan Coogler, Ava Duvernay and Sir Trevor McDonald.
Get the latest updates, reviews and unmissable series to watch and more!
Thank you for signing up to Whattowatch. You will receive a verification email shortly.
There was a problem. Please refresh the page and try again.