The Meg - Sky Cinema Premiere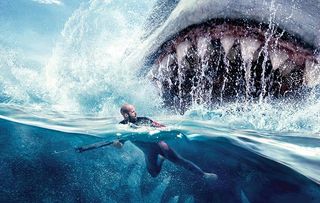 Just when you thought it was safe to get back in the water, along comes another giant shark movie and Jason Statham's strapping deep-sea diver hero
Just when you thought it was safe to get back in the water, along comes another giant shark movie and Jason Statham's strapping deep-sea diver hero.
The creature in question is a 75-foot megalodon, a prehistoric shark long thought to be extinct, and of course no one believes Statham's claim that a giant creature from the deep tragically scuppered one of his missions.
The ensuing disgrace has turned him into a boozy wreck but, five years later, redemption comes knocking when he gets the call to rescue a band of international scientists trapped in a submersible at the bottom of the Pacific Ocean, somewhere off the coast of China (this is a US-Chinese co-production). Chinese star Li Bingbing plays a marine biologist and single mother who provides Statham's love interest. The pair's romance is a bit wet, and so is much of the script.
Still, the film's potential shark fodder - ranging from Rainn Wilson's self-serving billionaire to a cute Pekinese called Pippin - deliver some good moments. What we have here is essentially a B-movie with a big budget, the right amount of cheesy moments and. most importantly, Statham enjoys himself enormously and always seems to be in on the joke.
Get the latest updates, reviews and unmissable series to watch and more!
Thank you for signing up to Whattowatch. You will receive a verification email shortly.
There was a problem. Please refresh the page and try again.