Miracle on 34th Street - Film4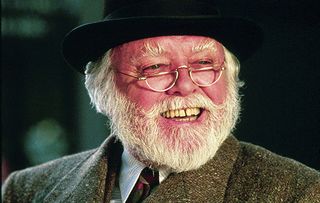 Kriss Kringle (Richard Attenborough) is a huge success when he takes over as Father Christmas in a New York toy store - because he really is Santa Claus
Kriss Kringle (Richard Attenborough) is a huge success when he takes over as Father Christmas in a New York toy store - because he really is Santa Claus!
While little Mara Wilson is soon convinced he's the real thing, her sceptical mum and his boss Elizabeth Perkins is far from sure.
Attenborough is on excellent jovial form and what could have been just another festive frolic gets a massive comic boost from his performance.
The nifty updating of the old story (previously filmed in 1947, 1959 and 1973) also hits the spot and the result is a thoroughly charming helping of Christmas spirit.
Joss Ackland is the scheming tycoon who has it in for Santa and Dylan McDermott keeps a fine straight face as the lawyer who has to defend him in court.
Best line: Attenborough's response when the prosecution demand that his reindeer fly: 'It only flies on Christmas Eve!'
Get the latest updates, reviews and unmissable series to watch and more!
Thank you for signing up to Whattowatch. You will receive a verification email shortly.
There was a problem. Please refresh the page and try again.