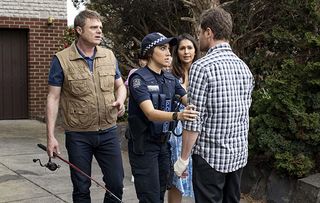 Has Mishti taken her job too far?
Mishti and Leo make plans to go on a date as her work schedule has kept them apart. When Senior Constable Fagan calls to cover a shift, though, Mishti decides to cancel her date with Leo leaving him upset. Later, Mishti's night shift turns into a nightmare when she has to arrest Shane...
Meanwhile, Gary is mortified that he has burst in on an unsuspecting Levi Jansen. He runs out of the room, only to bump straight into Xanthe on his way out. Gary finds out that Xanthe was having lunch with Ben in the break room, leaving him feeling guilty. As Gary makes his way out of the hotel he sees Terese who has just got off the phone with Levi who is cutting his stay short, because of an uninvited guest that burst into his room. Will Terese and Xanthe find out that Gary was the uninvited guest that startled Levi?
It seems like Gary's actions haven't just affected Terese, as Shane has lost out on a meeting with Levi. Shane feels downtrodden and believes that Levi must be leaving because his pitch wouldn't have been good enough. Will Levi's cancellation lead Shane into a downward spiral?
Tobi Oredein is an award-winning women's lifestyle journalist, media entrepreneur and international public speaker based in London, who focuses on race, feminism, beauty politics & popular culture. Tobi has been commissioned by Buzzfeed, British Glamour, Grazia, Elle UK, Fader, The Debrief, The Independent, The Pool, Stylist, Vice and others. She has also interviewed public figures such as Ryan Coogler, Ava Duvernay and Sir Trevor McDonald.
Get the latest updates, reviews and unmissable series to watch and more!
Thank you for signing up to Whattowatch. You will receive a verification email shortly.
There was a problem. Please refresh the page and try again.