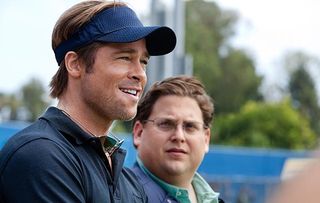 (Image credit: Melinda Sue Gordon)
Brad Pitt stars as a baseball maverick Billy Beane in this enthralling sports drama based on a true story
Brad Pitt stars as a baseball maverick Billy Beane in this enthralling sports drama based on a true story.
The general manager of the hard-up Oakland A's, he's sick of seeing his team of also-rans continually lose out to richer rivals. He needs a new strategy - and finds it in the unlikely form of number-crunching brainiac Peter Brand (Jonah Hill), whose grasp of the sport's statistics enables Beane to turn the team's fortunes around...
As sporting dramas go, Moneyball is as unconventional as its protagonist: the main action takes place in back offices and corridors rather than on the baseball field. And it's all the better for it.
The charismatic Pitt, well-cast Hill and the heavy-hitting supporting cast, including Philip Seymour Hoffman as the A's stubborn coach, perform wonders with the film's smart script and the result is absolutely gripping.
Thank you for signing up to Whattowatch. You will receive a verification email shortly.
There was a problem. Please refresh the page and try again.