Patrick and Maxine renew their vows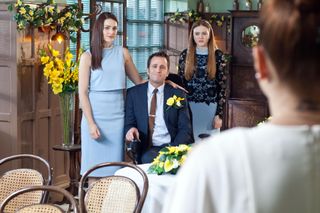 Ben confronts Patrick but Sienna stays strong and Ben has no choice but to stand by and let it happen. The vow renewal goes without a hitch but Patrick looks as though he's having second thoughts about framing Maxine. After the ceremony, Maxine makes the lethal cocktail and Patrick requests that both Sienna and Maxine leave him to record one final message on his camcorder. When they return, Maxine changes her mind about helping him - she tells Patrick she loves him too much and rushes out.
Patrick tells Sienna he's changed his mind about wanting to die and reveals he's sent a disc to Ben naming Nico as Carly's killer - and Nico hears everything on the baby monitor. As Sienna hurries out of the flat leaving Patrick alone with Nico, she's furious that he would stab her in the back to the police, and decides to get revenge… Maxine's delighted when she gets Sienna's message that Patrick's changed his mind about dying and runs over to the flat.
Meanwhile, Joe tells Lindsey he wants her and Kim out of the house. Lindsey tells Kim they're not going anywhere – she's bought the Roscoes' house!
Darren pays Neeta to have The Dog back for the day and he proposes to Nancy who nearly chokes on the ring he's placed in her drink. She says yes! Later, as Darren is walking through the village, he hears a shout from the Blakes' flat. Will he go and investigate?
Also, Neeta's upset when her mother refuses to come to her and Mac's wedding and Ellie suggests she should postpone.
Get the latest updates, reviews and unmissable series to watch and more!
Thank you for signing up to Whattowatch. You will receive a verification email shortly.
There was a problem. Please refresh the page and try again.