Phantom Thread - Sky Cinema Premiere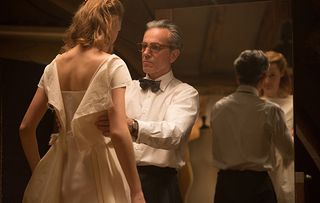 (Image credit: Photo : Laurie Sparham / Focus F)
This drama, set in glamorous 1950s London, traces the battle of wills between Daniel Day-Lewis' ultra-perfectionist dressmaker and his mistress, model and muse, Vicky Krieps
This drama, set in glamorous 1950s London, traces the battle of wills between Daniel Day-Lewis' ultra-perfectionist dressmaker and his mistress, model and muse, Vicky Krieps. The frocks are fabulous and so are the movie's leads in Paul Thomas Anderson's spellbinding drama, an exquisite weave of gothic romance and haute couture comedy. In what he says is his last film, Day-Lewis is in immaculate form as the exacting designer and Luxembourg actress Krieps, like the deceptively strong-willed character she plays, proves more than a match for her illustrious co-star. Day-Lewis' imperious head of a Mayfair fashion house dresses the crème de la crème of high society - everyone from English heiresses to American socialites and European princesses. His older sister (played with chilly briskness by Lesley Manville) ensures that his life and work run smoothly - and that his girlfriends never outstay their welcome. So when he woos Krieps' young waitress, an orphaned immigrant, no one expects her role as a live-in lover to last very long. However, she turns out to be far more shrewd and tenacious than she looks... A story of a beautiful young woman taming a powerful older man has more than a hint of familiar fairy tale fable about it, but there is droll social comedy here as well, accompanied by an atmosphere of swooning luxury. Costume designer Mark Bridges deservedly scooped an Oscar, although Day-Lewis - an Oscar winner when he last worked with Anderson on 2007's There Will Be Blood - had to settle for a nomination. All the same, this sumptuous, dazzling movie remains a perfect film on which to bow out.
This film is showing from Sunday 28 October.
Get the latest updates, reviews and unmissable series to watch and more!
Thank you for signing up to Whattowatch. You will receive a verification email shortly.
There was a problem. Please refresh the page and try again.