Porsche's plan is exposed!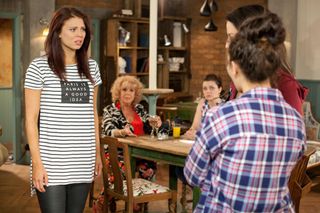 Reenie is arrested over the break-in at Price Slice. Celine lets it slip to Cleo and Nana that they tried to pay Reenie off. Cleo gives Reenie an alibi so she's released. Later, the McQueens realise that Porsche was trying to frame Reenie, but Reenie lies to cover for Porsche and 'admits' it WAS her who broke into Price Slice. Nana tells Reenie to leave but Porsche softens, telling Reenie she'll talk Nana into letting her stay. However, when Pete arrives, Porsche and Reenie's relationship is back on the rocks and Porsche tells her family that she was assaulted by him.
Grace is in hospital after electrocuting herself. With Dylan out of theatre, Trevor and Val give him a three-way family hug but, unbeknown to them, a jealous Grace sees everything.
Meanwhile, Kim cancels plans with Esther when she hears about Grace. Later, Kim lets herself into Grace's flat and tampers with her webcam. Dylan catches her but Kim warns him to keep quiet or she'll tell everyone about him dressing up in women's clothing. Later, Grace returns home, unaware she's being watched by Kim via the webcam.
Also, Simone has been left without her posh wine following Porsche's robbery, so Zack prints off fake wine labels to put on the cheap bottles so they can fool the wine critic. Simone is delighted when she's granted a 'Cheshire Cork' award.
Get the latest updates, reviews and unmissable series to watch and more!
Thank you for signing up to Whattowatch. You will receive a verification email shortly.
There was a problem. Please refresh the page and try again.