Prince robs the Lovedays!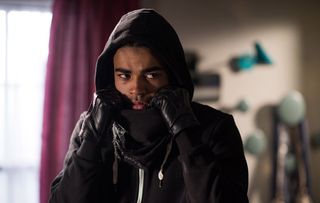 The teen panics, though, when it looks like he's been rumbled...
Goldie's delighted to see Prince again, but Hunter's worried about what his brother has got planned to get their mum's savings back. While being tutored by Louis at The Lovedays', Prince steals their spare keys. Later, Prince returns to the Lovedays' flat to steal Simone's jewellery, but she comes home and catches the masked intruder. As Prince flees, he pushes Simone and she tumbles to the floor, crying out in pain. Has she been hurt?
Mercedes seems spooked by the arrival of a letter. She's on edge and later calls Ryan a cheat in front of Leah and Lucas!
Also, concerned by how attached Kim is getting, Farrah assigns her to a new psychologist.
And it's judgment day for Nick.
Get the latest updates, reviews and unmissable series to watch and more!
Thank you for signing up to Whattowatch. You will receive a verification email shortly.
There was a problem. Please refresh the page and try again.