Romeo and Indi apply for a bank loan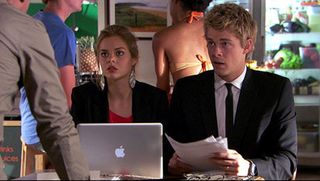 Harvey offers to help Romeo and Indi with their business loan pitch but he's worried that they need more capital to convince the bank. Sure enough, Harvey's warning rings true as the bank turns them down.
Marilyn arranges for Sheldon, the man responsible for Celia's gambling problems, to visit her at Summer Bay to help resolve her addiction. Alf isn't happy at his arrival but is talked round by Celia who promises they'll both get help for their gambling addiction. Alf returns Celia's latest winnings and she promises to donate it to her mission in Africa. The following morning, however, Celia catches Sheldon taking the cash – he's got a great tip for a horse that will set them up for life. What will Celia chose to do?
After a chat with Dex, Sid decides it's time to return home – he's not going to worry about the small things any more, he's going to concentrate on what's best for him and his family. Once home he hears Indi's news and, after giving it some thought, announces he's going to come in with them as a silent partner. With Sid's financial help, the bank is willing to loan the rest of the money and Romeo and Indi's business venture is on!
Get the latest updates, reviews and unmissable series to watch and more!
Thank you for signing up to Whattowatch. You will receive a verification email shortly.
There was a problem. Please refresh the page and try again.