Ross rolls out his plan to kill Pete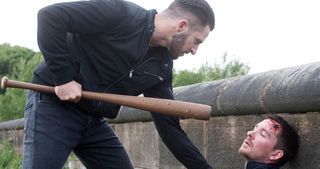 Having been knocked out by Robert, when Pete comes to he's utterly terrified to find himself hanging off the edge of a viaduct! Ross is loving the power he's got over his brother as he lets Pete plummet before winching him back up on to the bridge. But Pete's nightmare is far from over. Nope. Robert is planning to get rid of him once and for all. He wants depressed Pete to tell James he's committing suicide, and Ross then expects Pete to jump off the bridge to his death! Expecting a fight, Ross is taken aback when Pete apologises for all that's gone on between them and starts typing the suicide message text to their dad…
The factory is in chaos. Priya's finding it mad busy and it's only going to get worse when Rishi cuts Jai out of the business altogether. Worried about Priya, Rakesh warns Rishi all this stress could well prompt her eating disorder to return.
Despite Chrissie's warning not to let Robert manipulate her, Bernice meets up with the Whites' enemy and tells him his estranged wife is applying for a restraining order against him.
Get the latest updates, reviews and unmissable series to watch and more!
Thank you for signing up to Whattowatch. You will receive a verification email shortly.
There was a problem. Please refresh the page and try again.