Has Roy ruined the festive cheer with his Pelznickel costume?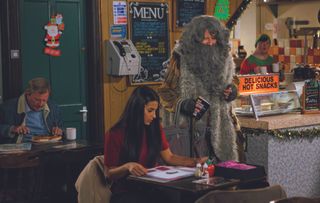 (Image credit: Mark Bruce)
Yasmeen is disappointed with Roy's costume for the Christmas Grotto. Can Barry save the day?
Yasmeen sets up her Christmas grotto in the café but is taken aback when Roy emerges in a Pelznickel costume. Everybody is disappointed to see that Santa has been replaced with Pelznickel and underwhelmed when Yasmeen the fairy hands them some fruit as a gift. But Brian soon arrives in Santa costume to save the day and Roy reluctantly gives up his seat in the grotto.
Everyone is stunned when Norris climbs up onto the factory gantry and stages a protest on behalf of Mary. But the protest is halted when Bethany arrives home clearly stressed and tells Jude, Angie and Mary that George has been sick and he's shaking. They watch on as the paramedics load George into an ambulance.
When Michelle finds out from Zeedan that the company card was declined, she's concerned. Robert covers, telling her that Zeedan entered the wrong security code.
Andy's mate, Matt, approaches Luke and tells him that Andy's been in contact, he's back-packing round Belize and won't be returning to the UK.
[Second episode of evening].
Get the latest updates, reviews and unmissable series to watch and more!
Thank you for signing up to Whattowatch. You will receive a verification email shortly.
There was a problem. Please refresh the page and try again.