Scott's clowning around ends in disaster!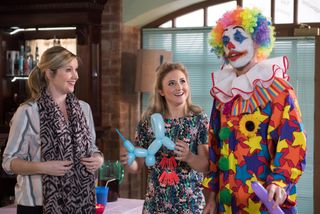 Dressed as Skittles the clown, Scott arrives at The Hutch flanked by Esther and a mob of parents with kids for his clown show. But it all goes spectacularly wrong when Myra slips over and ends up injured! Later, when Scott thinks he's having an allergic reaction to nuts, he makes a 'death bed' confession to John Paul that he's a virgin and runs off!
Meanwhile, Tony's keen to collect the winnings from the bet but Darren wants to delay, so that Tony won't have the money for his new business venture. As James spies on Darren and finds out about Tony's bet, Marnie puts doubt in Diane's mind about where Tony got the money from. Later, Darren's startled to find James sat in his office chair but James has a plan… Tony's floored when Darren turns up at The Hutch to reveal he's been mugged – the money's gone! Then Diane finds out about their bet...
John Paul tries to avoid Mrs St Claire, thinking she's got a crush on him. Louis believes it too when Mrs St Claire invites John Paul to go to a head teacher's conference on her behalf. Elsewhere, Myra panics when Diego comes across some of Nana's photo albums. Thinking Myra's 38, he's confused by some of the pictures. John Paul confronts Mrs St Claire about the special treatment she's giving him but he upsets her and she sends him home. When a furious Myra storms over to the school to confront Mrs St Claire, she's stunned when she recognises her as her former lover Iain - John Paul's dad!
Also, Alfie continues to hide the fact his cancer has returned as he goes with Jade to her last chemo session. As he brushes some hair from her face, and it falls out in his hand, Jade's mortified and locks herself in the bathroom!
Get the latest updates, reviews and unmissable series to watch and more!
Thank you for signing up to Whattowatch. You will receive a verification email shortly.
There was a problem. Please refresh the page and try again.