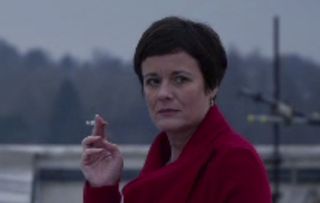 Recent events push the consultant to the edge...
After blaming Jasmine for the death of the transplant patient who'd received her daughter Elinor's heart, Serena's still on the warpath this week. And when Jasmine decides to take drastic action, the consultant spirals out of control.
Still struggling to cope with her grief, Serena's lashing out at everyone on AAU. She refuses to apologise to Jasmine for her relentless bullying, then snaps at nephew Jason and even turns on her lover Bernie!
Tired of walking on eggshells around Serena, Jasmine decides that enough is enough and hands Bernie her resignation. When Serena repeatedly begs Jasmine to stay, and the defiant doctor refuses, Serena then physically threatens Jasmine, forcing her sister Jac to step in!
Serena's day soon goes from bad to worse when her patient, Dotty, dies in theatre. When Serena then goes missing from the ward, Bernie fears she's on the hospital roof, and races up the stairs, followed by Fletch and Jasmine, to find her. Is Serena is danger?
Dominic reveals the extent of Isaac's cruelty – but as Zosia tries to help her friend, she gets a lot more than she bargained for.
Also, new mum Mo finds herself confronted with a challenging view of motherhood when a pregnant woman makes a difficult choice.
Get the latest updates, reviews and unmissable series to watch and more!
Thank you for signing up to Whattowatch. You will receive a verification email shortly.
There was a problem. Please refresh the page and try again.