Shona takes her secret to the grave!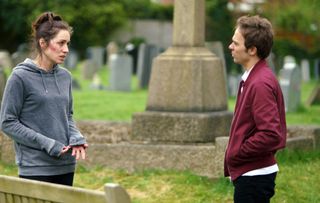 (Image credit: Mark Bruce)
Shona meets David at Kylie's graveside
Gail tells David that she is concerned he is getting too close to Shona and that it is too soon after Kylie. Shona confides in Eileen that she has feelings for David. He takes Lily and Max to Kylie's grave, but is shocked when he finds Shona there! What is she doing there?
Audrey spots the burn mark on Bethany's arm and tells her Nathan will soon be a distant memory. Sarah meanwhile is horrified to discover Bethany about to burn her other arm with a cigarette and she breaks down saying she deserves it as she has let Nathan down. Sarah is at a loss about what to do.
Maria tells Aidan that she gets her tag off today so she should come round, but unaware of the planned meeting Eva fixes it for Aidan to be at the Rovers when Jenny's jeweller arrives with sample rings. Realising what she is up to Aidan has another idea.
Get the latest updates, reviews and unmissable series to watch and more!
Thank you for signing up to Whattowatch. You will receive a verification email shortly.
There was a problem. Please refresh the page and try again.