Should Denise be visiting Lucas?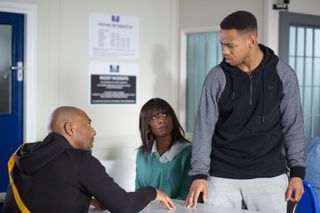 (Image credit: BBC/Jack Barnes)
Denise agrees to go to the prison with Jordan when he insists he needs to confront Lucas. Struggling with seeing his dad, Jordan almost leaves, but Lucas convinces him to stay. After Jordan and Lucas are left alone, Jordan asks Denise to talk to the governor about getting Lucas on a work scheme. Later, Jordan takes a call from Lucas and agrees their plan is coming together. Lucas promises Jordan that Denise won't get hurt.
Ronnie is still awkward with Jack, unable to be honest about her feelings. After a heart-to-heart with Sharon, Ronnie decides to take a chance. Her enthusiasm is dampened by Phil's insistence that a relationship with Jack would be doomed. When Jack tells Ronnie he needs an answer today, Ronnie is silent, prompting Jack to leave for home. Ronnie chases after him but Jack is in a cab with a mystery lady...
Mick suggests they have a family meal to bring the warring Carters back together. Heading to Donna's to talk to Nancy, Linda offers Nancy the bar manager job at The Vic. After Nancy declines and shares some home truths about Lee, the pair open up. Nancy insists she's not moving back in but Linda reminds Nancy she still works at the pub. With the family gathered for the meal, Linda is relieved when Nancy arrives - but it's just to hand in her notice!
Get the latest updates, reviews and unmissable series to watch and more!
Thank you for signing up to Whattowatch. You will receive a verification email shortly.
There was a problem. Please refresh the page and try again.