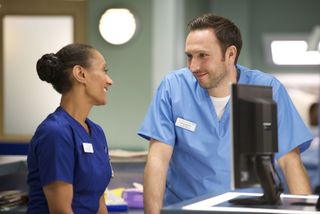 (Image credit: BBC/Warren Orchard)
Fletch returns from a short break this week to a frosty reception from his boss, Clinical Nurse Manager Tess Bateman.
Tess and her staff nurse were the best of friends - until she warned him to stop being over-familiar with Aoife, the junior nurse he's mentoring. Tess strongly disapproves of the way Fletch - a married man with children - is behaving around an impressionable nurse who clearly has a crush on him.
So when Fletch finds a Valentine's card in his locker, which turns out to be from Aoife, he realises Tess was right - and he is forced to talk to the young nurse about it!
The awkward conversation comes just as the hospital is critically understaffed due to a flu epidemic, and Fletch then has to endure a tense shift with an embarrassed Aoife and watchful Tess.
All that changes, however, when Tess hears Fletch has set the record straight with Aoife and starts warming to him again. Once the working day is over he invites Tess out for a drink and she eagerly accepts. Several drinks later, though, a peck goodnight turns into a passionate kiss... is this the beginning of a full-on affair?
Elsewhere, the staff of the ED are struggling to cope as the Flu outbreak continues. Student nurse Robyn makes matters worse when she posts confidential hospital information on a social media website, leading to a media scrum outside the hospital!
Later, while carrying out a task in the basement Robyn discovers someone who works at the hospital is living there. Noel reluctantly tells the young nurse that his father's nursing home care has become too expensive and he's had to give up his flat. Keen to make up for her earlier slip, Robyn finds Noel a place to stay - with his pal Big Mac wants a housemate!
Get the latest updates, reviews and unmissable series to watch and more!
Thank you for signing up to Whattowatch. You will receive a verification email shortly.
There was a problem. Please refresh the page and try again.