The Great British Bake Off – C4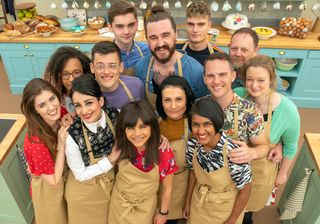 (Image credit: Channel 4)
Hot out of the oven, one of the year's nailed-on highlights as C4's The Great British Bake Off returns with new bakers and new themes
There's a fresh baker's dozen in the tent tonight as 13 hopefuls pour all of their imagination and inspiration into scoring a Hollywood handshake, as a new series of C4's The Great British Bake Off begins.
Things kick off with cake week, starting with a divisive signature challenge: the humble fruit cake.
Then a tricky technical leads to one baker dismissing their creation as 'inedible' before a birthday cake showstopper challenge really separates the stars from the stragglers.
There are some fabulously gifted bakers this year, but after a whole decade of challenges, we can't quite believe so many of them have missed one of the basic rules of cake decoration: wait for the cake to cool before you try to ice it!
MORE: The Great British Bake Off: Classic kitchen CATASTROPHES!
TV Times chatted with judges Prue Leith, 79, and Paul Hollywood, 53, hosts Sandi Toksvig, 61, and Noel Fielding, 46, to find out more.
We hear there are brand-new themed weeks in this series of The Great British Bake Off…
Paul: There's 1920s Week, Dairy Week and a festivals episode, which allows us to incorporate a global theme rather than just British baking – the bakers are choosing festivals not just from the UK but from anywhere in the world.
Obviously we had Danish Week in the last series, which was a disaster.
Sandi: Best week ever!
Prue: It can be festivals we've never heard of, but that's fine, as long as they make a bun that goes with it.
Noel: It did smell a bit like someone had burned something when I went into the tent earlier.
Might have been a cake for the Burning Man Festival.
You all socialise together after each show. Is it true you've been crashing some weddings lately?
Paul: Sometimes there's a wedding on at the hotel we stay at, and it can create a stir when they see us.
Sandi: The best thing recently was when one bride came over to Noel, quite drunk, and called him 'Mr Noel'!
I was trying to get everyone to curtsy to him after that.
Noel: Paul gets to the bar first because he's got the fastest car.
He looks a bit mean and moody, like Brando, so people are too scared to come up to him.
Then Prue turns up and they get a bit more confident, but when Sandi and I get there it's open season!
Prue: I think they'll regret it when their grandchildren ask who the curious person in the photo is.
Sandi: They'll say, 'It's the bride, the groom and Mr Noel!'
TV Times rating: *****
Thank you for signing up to Whattowatch. You will receive a verification email shortly.
There was a problem. Please refresh the page and try again.