The Sorcerer's Apprentice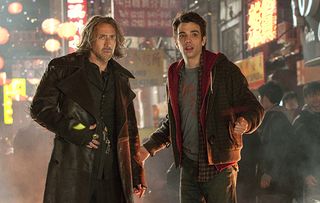 (Image credit: Abbot Genser)
Nicolas Cage is a master sorcerer who recruits geeky student Jay Baruchel to help him defeat his arch-enemy (Alfred Molina)
Nicolas Cage is a master sorcerer who recruits geeky student Jay Baruchel to help him defeat his arch-enemy (Alfred Molina).
The beloved Mickey Mouse cartoon segment in 1940's Fantasia inspires a rip-roaring live-action, full-length fantasy caper.
Cage is hugely entertaining as the incredibly ancient, but reasonably well-preserved Balthazar Blake, Baruchel is also ideal as his unwilling student and Molina, who has his own sidekick in an English rock star (Toby Kebbell), makes a lip-smacking baddie.
Baruchel's really more interested in Teresa Palmer than magic, but Cage forces him to fulfil his destiny as the sorcerer's apprentice to save the world.
This is a likeable, fast-moving blast of a movie, with loads to do for the four leads, who get proper characters to play and decent, witty dialogue to perform.
It's an old-fashioned, handsome yarn and the excellent effects don't overpower the plot.
Get the latest updates, reviews and unmissable series to watch and more!
Thank you for signing up to Whattowatch. You will receive a verification email shortly.
There was a problem. Please refresh the page and try again.