Tyler tries to kiss Paige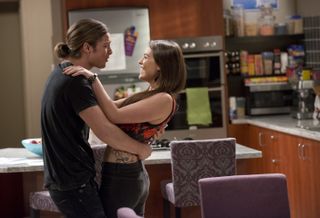 Tyler's gutted when he realises Ben hasn't locked the garage properly, which leaves him liable for everything taken. Paige suggests they search for the person responsible themselves. Using 'MyStuffForSale', they find Tyler's bikes and she cons the seller into giving them the serial numbers, which is exactly what Mark needs for an arrest. Tyler impulsively kisses Paige and realises she may have given him the wrong impression.
Karl and Susan admit they love Ben but dealing with troubled teenagers is more difficult now they're older. Later, they emphasise they do want Ben to come back for a visit and he's welcome any time.
Kyle offers Jimmy his old phone, but he uses all his credit texting Kyle. Meanwhile, Amy's torn and Sonya can't help ask her how she feels about Kyle. Amy admits there is something there, but the timing isn't right. Later, Amy and Kyle share a moment, but it's interrupted by the arrival of Amy's ex husband, Liam.
Get the latest updates, reviews and unmissable series to watch and more!
Thank you for signing up to Whattowatch. You will receive a verification email shortly.
There was a problem. Please refresh the page and try again.