Valerie helps a woman with dementia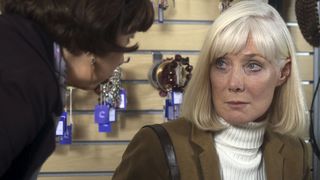 (Image credit: BBC)
Valerie goes to meet her old friend Michael, who works in a Charity Shop. A woman enters, Paula, but Michael asks her to leave. Paula faints and Valerie helps her eventually taking her home where she discovers that Paula is Michael's mum who is suffering from dementia. Later, Michael explains his father threw his mother out when she starting taking drugs but Valerie convinces him to give her another chance.
Mrs Tembe spots an article in the newspaper about Councillor Hargreaves stepping down and she and Emma suggest that Heston should stand for election in his place.
Zara is back from Australia and full of the wonderful time they have had despite Joe's illness and manages to rub Ayesha up the wrong way with thoughtless suggestions. Emma further winds her up when she tells Ayesha about her date with Franc, who is not getting out at all as Sierra is living with her.
Get the latest updates, reviews and unmissable series to watch and more!
Thank you for signing up to Whattowatch. You will receive a verification email shortly.
There was a problem. Please refresh the page and try again.