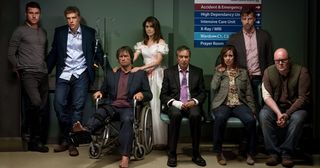 The final episode of a special week sees horror and death unfold in the wake of Emma's evil crime against James…
It's the final installment of an epic week in Emmerdale and someone is about to die. But which of the casualties in the car crash caused by Emma – who shoved James off a footbridge on to the oncoming traffic of a busy road – will survive?
In hospital, the battle is on as the doctors work to try to save Rhona, Aaron and James' lives…
Pierce is still not handling the situation at all well. He rails at Paddy demanding the vet leaves the hospital. But Paddy is determined to be there for Rhona no matter what. Later, the doctors inform the men there's been a complication in surgery and Rhona is now intensive care…
Chas and Liv arrive on the ward. As Aaron's loved ones struggle to keep it together, there's good news. Aaron comes round and groggily tells Robert he accepts his proposal of marriage! The moment soon plunges into panic as Aaron blacks out and the alarms on the machines he's hooked up to start blaring…
James Barton, meanwhile, is on life support. As Finn watches over his dad, Pete and Emma turn up. Emma is forced to act worried – and inside she is. Not only is Emma laden with guilt and regret – she's also terrified James will survive and recall the horror of all that she inflicted on him, including the fall which has gone on to hurt so many others. After trying to mess with his oxygen supply and trying to bail on her boys at the hospital, Emma is watching as James goes into cardiac arrest! And, indeed, it is James who loses his life and is laid to rest while Rhona and Aaron survive…
Get the latest updates, reviews and unmissable series to watch and more!
Thank you for signing up to Whattowatch. You will receive a verification email shortly.
There was a problem. Please refresh the page and try again.