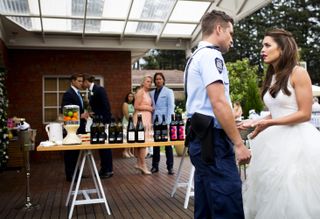 After turning up to discover his nuptials are about to take place, Mark pulls out his cuffs and arrests Paige. Back at the station, Paige tells Mark the truth about the stolen goods and after he verifies her story with Paul, he lets them go on the proviso they give evidence in court against Dimato and Michelle. Later, Paige and Mark exchange words - he feels betrayed, she feels judged... and it's clear they are no longer getting married.
Susan, Karl and Sonya make a video for Sonya's Mayoral campaign - but Sonya is somewhat taken aback by online 'haters'. And an encounter with Tim Collins' campaign manager makes Sonya think twice about the can of worms she may be opening.
A disorientated Doug bumps into Paul, who spots his wedding dowry cheque for 10 grand. Doug isn't sure what he'll do with the money now the wedding isn't happening and Paul is more than happy to make a suggestion – his motel. Would Doug like to invest? Doug says yes and Paul happily takes the cheque.
Get the latest updates, reviews and unmissable series to watch and more!
Thank you for signing up to Whattowatch. You will receive a verification email shortly.
There was a problem. Please refresh the page and try again.