Will Mary lose her motorhome?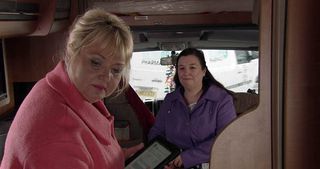 A council officer reveals that one of the neighbours has made a complaint about Mary's motorhome. Convinced that Julie's never liked her, Mary accuses her of reporting her to the council. Julie's hurt and denies all knowledge.
Nick and Sarah discover David's done a runner with Max and Lily. As David checks into an airport hotel he phones Nick, who realises David's abducted Max two weeks before the custody hearing. Meanwhile, Callum's livid and phones David, telling David he's got until the morning to bring Max home or he'll finish him once and for all.
Having returned from his meeting, Billy's upset as he explains to Sean that the Bishop made his disapproval plain and in desperation Billy lied to him, assuring him that he and Sean have ended their relationship.
Liz and Michelle are taken aback to find Steve's brought a dog home. Tony puts pressure on Steve and Michelle to find a buyer for their half of the pub.
Get the latest updates, reviews and unmissable series to watch and more!
Thank you for signing up to Whattowatch. You will receive a verification email shortly.
There was a problem. Please refresh the page and try again.