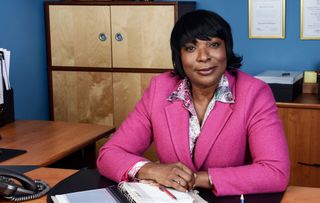 (Image credit: BBC)
Mrs Tembe organises a meeting with the partners to discuss Sid's future at The Mill
Mrs Tembe tells Sid that Megan has been reported to the medical board and that she and the partners will be having a meeting later that day to discuss how everyone can move forward. Meanwhile, Ruhma meets Megan for lunch and comforts her as she explains that she's been sleeping with Sid!
Finally, Sid's big meeting with the partners arrives and he's beyond nervous. However, when Mrs Tembe, Jimmi, Daniel an Zara start laying into him for his actions, he snaps. He labels them hypocrites and brings up Zara and Daniel having sex in the park, Mrs Tembe's reckless relationship with JJ and Jimmi's reoccurring vanishing act. He says he knows he made a mistake but reckons they should concentrate on their own lives before criticising his choices. Will Sid's words cost him his job?
Also, Ayesha's still filled with so much hate and continues to push everyone away including Sid. Later, Rob and Emma meet up and Emma says she hasn't told anyone about his memory lapses and doesn't plan to. The problem is that Ayesha overhears part of the conversation and is left fuming…
Tobi Oredein is an award-winning women's lifestyle journalist, media entrepreneur and international public speaker based in London, who focuses on race, feminism, beauty politics & popular culture. Tobi has been commissioned by Buzzfeed, British Glamour, Grazia, Elle UK, Fader, The Debrief, The Independent, The Pool, Stylist, Vice and others. She has also interviewed public figures such as Ryan Coogler, Ava Duvernay and Sir Trevor McDonald.
Get the latest updates, reviews and unmissable series to watch and more!
Thank you for signing up to Whattowatch. You will receive a verification email shortly.
There was a problem. Please refresh the page and try again.