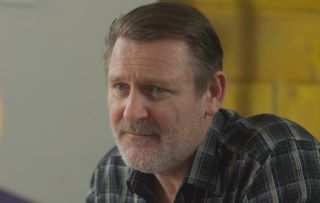 (Image credit: BBC)
Rob is still struggling with his problems - but will he admit this to Karen and Heston?
Rob sets off for his next appointment with Heston. As he waits in The Mill reception, Mrs Tembe comforts Karen and assures her that things will get better in time. Rob goes into his meeting with Heston and says that his group therapy session went well. Rob continues to act like the model patient when he agrees to take anti-depressants. He finally leaves his appointment and tells Karen he's going to cook her a meal as she has the day off.
The pair spends some quality time together and Karen thanks Rob for making an effort to move on from his mental health problems. Will Rob crack and tell her the group therapy session wasn't a success? Finally, Karen and Rob meet with the social services, will they ever be allowed to foster again?
Meanwhile, Zara and Daniel aren't happy that their photo hasn't been deleted from the swingers website. Zara wants the picture removed and suggests they ask Al for advice, as he has dealt with a similar problem. At work, Zara is rushed off her feet, so Daniel speaks to Al alone. Daniel tells Al that this picture is on a lifestyle website, trying to be a vague as possible. However, with Daniel being so cagey with the details of his problem, Al realises he's hiding something and decides to get to the bottom of it. Will Al find out the picture is being used on a swingers website?
Get the What to Watch Newsletter
The latest updates, reviews and unmissable series to watch and more!
Tobi Oredein is an award-winning women's lifestyle journalist, media entrepreneur and international public speaker based in London, who focuses on race, feminism, beauty politics & popular culture. Tobi has been commissioned by Buzzfeed, British Glamour, Grazia, Elle UK, Fader, The Debrief, The Independent, The Pool, Stylist, Vice and others. She has also interviewed public figures such as Ryan Coogler, Ava Duvernay and Sir Trevor McDonald.