Will Valerie regret going on her date?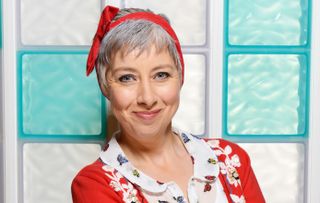 (Image credit: BBC / Kieron McCarron)
Will Al and Ayesha approve of Valerie's potential love interest, Pete?
After reading the cruel comments underneath her profile, Valerie is left shaken and refuses to go on a date with Pete. Luckily, Ayesha has a chat with her and persuades her not to cancel her date. Later, Karen finds Valerie engaging in some racy text messages with Pete and encourages her to turn up the heat, but things go a little too far. As her lunchtime date approaches, Valerie gets a little nervous, but Ayesha tells her not to worry. Valerie makes her way to the Icon bar, where she meets Pete. Will it be a lunchtime to remember?
Meanwhile, Ayesha apologises to Al for her behaviour. Al accepts Ayesha's apology and she asks him for a favour: will he come with her to the Icon Bar to keep an eye on Valerie and Pete. However, when they arrive, both of them are not completely comfortable with Pete's behaviour and his attitude towards Valerie.
Get the What to Watch Newsletter
The latest updates, reviews and unmissable series to watch and more!
Tobi Oredein is an award-winning women's lifestyle journalist, media entrepreneur and international public speaker based in London, who focuses on race, feminism, beauty politics & popular culture. Tobi has been commissioned by Buzzfeed, British Glamour, Grazia, Elle UK, Fader, The Debrief, The Independent, The Pool, Stylist, Vice and others. She has also interviewed public figures such as Ryan Coogler, Ava Duvernay and Sir Trevor McDonald.