Phyllis Crane — our guide to the Call the Midwife character
Phyllis Crane — everything you need to know about Call the Midwife favourite.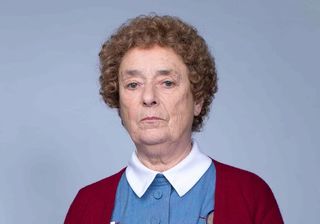 (Image credit: BBC)
Phyllis Crane is one of the nurses in Call the Midwife, and first joined the programme in season four. She is a private district nurse and arrives in 1960 as temporary cover for Sister Evangelina who is on sick leave at the time. She is very different from Sister Evangelina, and the two often clash throughout the series.
Nurse Crane is quite the character and refuses to conform to society's standards. She is a proud vegetarian and arrives at Nonnatus House driving a Morris Minor, definitely making a statement!
If you need a recap of who Phyllis is ahead of Call the Midwife 2022 Christmas special and Call the Midwife season 12, we have got everything you need to know...
Who plays Phyllis Crane?
Phyllis Crane is played by Linda Bassett, who has previously starred in Dinnerladies, Lark Rise to Candleford, the 2003 film Calendar Girls, and most recently BBC crime drama Strike.
Speaking about her role to What's on TV, she said: "Phyllis is a bit different to the rest of them. She's a self-styled spinster, a career woman and dedicated to midwifery. She's devoted herself to her work… but there are surprises in the life of Phyllis Crane!
"The fascinating thing about this job is that you don't know everything about your character when you start. There's always surprises in life so it mirrors life in that way."
Phyllis Crane's personality
Phyllis Crane is an incredibly forceful character, and a bit of an outcast. She doesn't follow the crowd and has very strong opinions on things that matter to her, such as her vegetarianism.
She is a strong, career driven woman and when she first arrived at Nonnatus House, she came across as stern, uncaring and a bit of a snob. But her compassionate side emerges over the series, and Phyllis becomes a caring mentor to the younger midwives.
She experiences tragedy when her best friend Nurse Barbara Gilbert dies, and she reads a poignant poem 'Turn again to life' at her funeral.
In series 11, fiercely independent Phyllis gets herself a temporary roommate when Miss Higgins moves in with her. The arrangement doesn't last long though, as Phyllis finds it very hard living with someone so methodical.
Phyllis Crane's family and relationships
Phyllis is a self-proclaimed spinster, but it was revealed she has had at least one relationship in the past. During World War II, she and a pilot met and there was an instant attraction between the two. He was later shot down during a fire fight, and Phyllis revealed it made her glad she had 'seized the moment' at the time.
Not a lot is known about Phyllis' family, but it is revealed that she adored her mother. She was an illegitimate child and her mother was thrown out by her own parents, with Phyllis revealing she 'did anything she could' to provide for her and raise her well.
Phyllis is originally from Leeds and speaks with a strong Yorkshire accent.
Phyllis Crane's overseas adventure
In series 11, Phyllis receives a letter informing her she's come into the possession of £5000 from premium bonds her mother gave her before her death.
Deciding to make the most of her good fortune and consumed by wanderlust, Phyllis secures over six weeks leave from Nonnatus to take the holiday of a lifetime.
She finds a motor coach that tours Bruges in Belgium, Paris, Arras, Nice and Montpelier in France, then goes onto Spain — which is somewhere Phyllis has always dreamt of visiting.
Nurse Crane sets off on her special trip, but is subsequently summoned back to Poplar after a train derailment causes mass damage to the street where Nonnatus House is located, putting the lives of Dr Turner and Sister Julienne at risk.
In her typical no-nonsense style, Phyllis returns to help and rallies everyone together to do their best for the community.
Get the latest updates, reviews and unmissable series to watch and more!
Laura has been a journalist for over a decade, writing about soaps, TV entertainment, fashion, beauty, and food. After graduating from university, she started her career working at a national soap and TV magazine. During her seven-year stint there she joined the cast of Emmerdale for a tour around the famous village, partied with soap stars at awards bashes, interviewed her acting idol David Suchet, and sat in the front row of Strictly Come Dancing.
Her heart lies with the soaps, and her all-time favourite character has to be EastEnders' Pat Butcher - no one rocked a big earring quite like her. She's also a huge fan of detective crime dramas, particularly old school Inspector Morse, Endeavour, and adaptations of Agatha Christie's Marple and Poirot. When she's not writing, she loves a spot of second-hand shopping and going on adventures with her young son.
Thank you for signing up to Whattowatch. You will receive a verification email shortly.
There was a problem. Please refresh the page and try again.