The L Word: Generation Q season 3 episode 10 recap: living, loving and looking ahead
The L Word: Generation Q season 3 finale puts a wrap on many big questions, while leaving others open ended.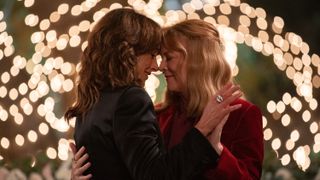 (Image credit: Isabella Vosmikova/SHOWTIME)
NOTE: this post contains spoilers for The L Word: Generation Q season 3 episode 10 "Looking Ahead."
The L Word: Generation Q season 3 finale opens at Bette (Jennifer Beals) and Tina's (Laurel Holloman) wedding. Alice (Leisha Hailey) was in charge of the cake and the booze. She got the cake but forgot to arrange for the alcohol.
That forces Shane (Kate Moennig) to call Tess (Jamie Clayton) to bring copious amounts of alcohol from Dana's to the venue fast. Shane and Tess have not spoken so it's extremely awkward for Tess to show up and stock the bar. But awkward seems to be a theme at this wedding.
Tess is drinking heavily and seeing Shane isn't helping her mental state. After making sure there is plenty of alcohol for the wedding guests she meets a guy and goes to his car with him to get high. She's not the only one indulging in some substances at the wedding. Roxy (Paula Andrea Placido) has molly she shares with Dani (Arienne Mandi), even though Dani insists it won't have any effect on her. It doesn't take long before it's heavily affecting her.
Sophie's (Rosanny Zayas) primary goal at the wedding is to find someone to hook up with, although she wants to clear the air with Alice too. They haven't spoken since the season finale of Alice's show. Sophie gets more than the hook up she planned for when she meets Pippa Pascal (Vanessa Williams) and the two instantly spark. This could end up being a real thing and not just a wedding fling.
While the last minute wedding preparation drama is going on, Bette and Tina stress as they get dressed. Tina complains about being extremely hot and sweaty all of a sudden and she's desperate to cool off. Bette suggests they try hanging out in the walk-in cooler in the kitchen to see if that helps. But the handle breaks on the inside, trapping them. When Shane and Alice finally come looking for them, the outside handle breaks too.
Angie (Jordan Hull) brings Hendrix (Simon Longnight) to the wedding, but Bette and Tina don't want him there. Hendrix thinks the wedding is a great time to tell Angie he's moving to New York to focus on his book, to which she tells him to leave.
Alice calls 911 to get the door open, but the fire department is busy and can't send someone for several hours. Bette insists Alice call Tasha (Rose Rollins) to get them out. Reluctantly Alice does, and Tasha and her crew come to the rescue.
Bette and Tina are grateful and tell Tasha to stay for the wedding if she'd like to. Tasha and Alice bicker, but also have a meaningful moment where Tasha tells Alice she felt like Alice was still in love with Dana when they were together. At that moment Angie pulls Alice away because the wedding is starting.
Able to talk later, Alice tells Tasha losing Dana almost killed her and she focused on her career after that so she wouldn't have to really deal with her loss. They dance and the vibe between them is very much still there.
Tess returns high and drunk and makes a scene. She also falls into the wedding cake. Afterward she leaves with the man she met earlier. Then, at the end of the night, Finley (Jacqueline Toboni) gets a call indicating Tess has been in some kind of accident.
Bette and Tina try to regroup with Alice and Shane. The four of them have a nice moment reminiscing about some of the crises they have been through together in the past. Despite the smashed cake the wedding goes on. Bette and Tina share vows they've written. Alice, who became a wedding officiant online, pronounces them married for life.
After some dancing and celebrating, Bette and Tina quietly slip away; a nice send off for the original L Word power couple.
Dani and Roxy kiss, and Roxy lets Dani know that she bought a condo in LA and is serious about being with her. But Dre (Carmen LoBue) shows up to the wedding as Dani and Roxy are kissing, so Dani is going to have to make a choice.
In non-wedding drama, Micah (Leo Sheng) and Maribel (Jillian Mercado) reach a tipping point that ends up tearing them apart. They have the donor sperm and are ready to make a baby when Micah gets cold feet. He wants to have a serious and open discussion with Maribel about the risks of pregnancy and how pregnancy would be impacted by her disability. She is furious at him, but he is concerned about her health and the impact of a pregnancy. They have a big fight about it and Maribel smashes the container of donor sperm, telling Micah they aren't ready for a baby. Micah packs a bag and leaves, phoning Max and asking if they can talk.
The L Word: Generation Q season 3 was supposed to be about finding true love, whether it was with another person or self-love. If the series comes back for another season (as yet unconfirmed) it will be interesting to see what develops for both the new characters and OG characters as they continue to redefine what love, commitment, marriage and family look like in modern society.
You can watch all of The L Word: Generation Q season 3 on the Showtime app or Paramount Plus.
More on The L Word: Generation Q
Get the latest updates, reviews and unmissable series to watch and more!
Sonya has been writing professionally for more than a decade and has degrees in New Media and Philosophy. Her work has appeared in a diverse array of sites including ReGen, The Washington Post, Culturess, Undead Walking and Final Girl. As a lifelong nerd she loves sci-fi, fantasy and horror TV and movies, as well as cultural documentaries. She is particularly interested in representation of marginalized groups in nerd culture and writes reviews and analysis with an intersectional POV. Some of her favorite shows include Game of Thrones, The Walking Dead, The Handmaid's Tale and The Sandman.
Thank you for signing up to Whattowatch. You will receive a verification email shortly.
There was a problem. Please refresh the page and try again.