The Real Housewives of Miami season 5 reunion — the most shocking revelations
Larsa talks about her relationship with Marcus and the dynamic with the Jordan family, and Andy gets to the bottom of Nicole's hospital rumor.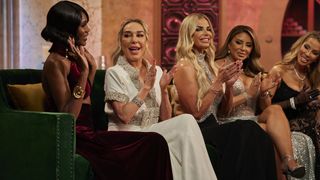 (Image credit: Jocelyn Prescod/Peacock)
After a dramatic 16 episodes that placed a spotlight on Lisa's divorce, the feud between Alexia and Adriana and Larsa's numerous shady comments, there was a lot to be discussed at The Real Housewives of Miami season 5 reunion. The ladies certainly didn't hold back on calling each other out and vocalizing their opinions, often overtalking host Andy Cohen.
However, in the midst of all the chaos, there were some surprising revelations and allegations that left viewers stunned. So what happened in the sitdown with the cast?
Here are just a few of the takeaways from The Real Housewives of Miami season 5 reunion.
Lenny mentioned divorce before, and Lisa alleges he may have been with yet another girl
As expected, things between Lisa and Lenny are not great as they muddle through the process of divorce. He's officially moved into a place with his new girlfriend and Lisa's soon-to-be ex is still not the kindest to his wife. Yet she apparently still occasionally orders him groceries.
When Andy tried to get to the bottom of whether or not Lisa was truly surprised when Lenny filed for divorce, she dropped the bombshell that her husband had actually mentioned leaving her on a number of occasions over the past 15 years. Apparently, any time the doctor got upset with the reality star, he would threaten to end the marriage.
This revelation was only eclipsed by the allegation that Lenny may have already cheated on his current girlfriend. When talking about a party she and Lenny co-hosted in the midst of their separation, Lisa alleged he was getting "chummy" with a mystery woman. She then alleged he took this woman with him to another event when they were caught making out.
Larsa and Lisa both have boyfriends
Before the reunion even got started, Andy went to visit Larsa in her dressing room where he comes to face to face with Marcus Jordan, heir to NBA legend Michael Jordan. At that point, Larsa continued to present Marcus as a "friend." Then as Andy grills Larsa about the dynamics of her and Marcus while on stage in front of the other ladies, Larsa finally admits that she's dating him.
Now when it comes to Lisa, she too brought a male companion with her to the reunion. Viewers learn that this man named Jody Glidden is her boyfriend. He is already different from Lenny in that the former is not in the business of performing plastic surgery on women. As it turns out, Jody is a tech entrepreneur and is the co-founder of the company Introhive.
Larsa responds to accusations about a Brazilian butt lift
For the past two seasons, Larsa has found herself on the receiving end of allegations that she had augmentations to her posterior. Adriana in particular has been rather adamant that Larsa had received a Brazilian butt lift, which Larsa has always taken exception with.
At the season 5 reunion, Adriana again accused Larsa of having a BBL and Andy hoping to put the matter to rest, asked Larsa directly if that was true. Larsa completely denied having any work done on her butt and alluded that it looks different because she's not as thin as she once was years ago.
Alexia throws a little blame Lisa's way for her divorce
As part one of the reunion wrapped, Alexia made a statement that simply stunned most of the cast. As she was defending her notion that she is a star and advocating that all the ladies feel that way about themselves, Lisa attempted to aid her friend in her argument. Unfortunately, it didn't appear Alexia felt aided by the comment and told Lisa that if she felt like more of a star that she wouldn't have let Lenny treat her the way that he did. That if she had more confidence, Lenny wouldn't have felt he could have gotten away with his poor decisions.
Needless to say, many of the other ladies were not here for the statement. After the initial "wow" comments, Ariana chimed in vehemently disagreeing with Alexia's remarks.
Alexia goes to war with Adriana
During a cast break in the second part of the reunion, Alexia went to Julia's dressing room to thank her for accepting her apology for the comments she made about Russian women. While talking to Alexia, Julia attempted to bring up Adriana, but Alexia wasn't in the mood to discuss her frenemy, and even stated she and Adriana weren't more than surface-level friends.
To emphasize her point, Alexia brings up how Adriana brought up comments that Alexia's husband died "while having sex with a man" at his funeral, which deeply hurt Alexia. Adriana, who was in the room, refuted her rival's claim and even accused Alexia of actually being the one to out her former husband upon his death, which infuriated Alexia.
Larsa discusses her relationship with Marcus, Michael Jordan & Scottie Pippen
As discussed in part one of the reunion, Larsa and Marcus are an official couple. As part two aired, Andy helped to untangle a lot of the mystery surrounding their relationship. First, Larsa made it clear she only came to know Marcus a few years ago. Although her ex-husband Scottie Pippen used to play basketball with Marcus' dad Michael Jordan, at the time when Larsa started dating her husband it was during the last year of the NBA legends' time together as teammates.
Plus, when Larsa was dating Scottie, Michael and his wife were going through a divorce, so Larsa apparently never met the former Mrs. Jordan or the couple's kids, including Marcus. Fast forward to the present day, Larsa mentioned her boyfriend has been around her kids and she has hung out with the Jordan family.
Now in terms of Scottie Pippen and his thoughts on Larsa's relationship with Marcus, the RHOM star stated she and her ex make a point not to get involved in one another's personal life.
The source of the Nicole hospital rumor is revealed
Ever since Larsa said she heard a rumor about Nicole sleeping with "all the doctors" at the hospital, there has been a lot of frustration expressed by Nicole. Although Nicole took exception to Larsa perpetuating this unfounded rumor, at the reunion she insinuated the originator of it was Marysol.
Marysol piped up and reiterated a point she made throughout the season, that she received DMs alleging Nicole was entertaining doctors at her hospital. Additionally, Marysol said that since the episodes aired, she's received more messages from people talking about Nicole's personal life.
In fact, Marysol talked about one comment in particular Nicole apparently was tagged to on social media that noted she "didn't sleep with all the doctors but many of them, including a married man." That statement only inflamed the tension on stage, but Marysol did make a point of clarifying that she doesn't believe any of the rumors. Which begs the question, why did she bring them up in the first place?
Adriana gives a letter to Andy about Marysol
Adriana was in the midst of a heated discussion with Marysol about the state of their friendship when she stood up to hand Andy a letter. As the reunion host starts to read the piece of paper, the cast is horrified as the alleged author of the letter accuses Marysol of abuse and in desperate need of help. By the time Andy gets to the bottom of the letter, it turns out it's been signed "Marysol's liver."
Apparently, Adriana wrote the letter as a cheeky joke and nod to Marysol's drinking on camera. Her humor fell incredibly flat with her cast members, Andy and viewers.
The Real Housewives of Miami season 5 reunion continues with part two airing on Peacock on Thursday, March 16.
Get the What to Watch Newsletter
The latest updates, reviews and unmissable series to watch and more!
Terrell Smith has a diverse writing background having penned material for a wide array of clients including the federal government and Bravo television personalities. When he's not writing as Terrell, he's writing under his pseudonym Tavion Scott, creating scripts for his audio drama podcasts. Terrell is a huge fan of great storytelling when it comes to television and film. Some of his favorite shows include The Crown, WandaVision, Abbot Elementary and Godfather of Harlem. And a fun fact is he's completely dialed into the TLC 90 Day Fiancé universe.