Who is Lenny Hochstein, and why are Real Housewives of Miami fans livid with him?
Lisa's soon-to-be ex Lenny Hochstein has managed to alienate his wife and Real Housewives of Miami viewers.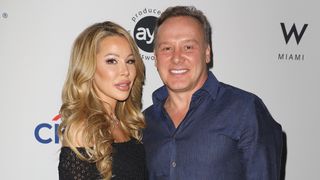 (Image credit: Alexander Tamargo/Getty Images for AYS Sports Marketing)
Going into The Real Housewives of Miami season 5, many fans knew a major focus of the new episodes would be Lisa Hochstein's marriage. Prior to the season starting, news sites and blogs reported she and her husband Lenny were headed to a divorce. However, seeing the dissolution of their marriage play out onscreen is jaw-dropping to say the least, and Lenny is not standing in a favorable light at all.
Due to his own antics, Lenny has painted himself to be this season's villain, with viewers more than willing to award him the title. From the way he talks about his wife on the show to his perceived parenting style, he certainly is taking a few hits in terms of public perception. But just who is Lenny Hochstein?
Not only do we have a knowledge of who he is, but also a rundown of why RHOM viewers are livid with him. Here's what we know.
Who is Lenny Hochstein?
When RHOM season 2 premiered on Bravo, Lisa Hochstein was introduced in the cast alongside her husband, Dr. Leonard "Lenny" Hochstein. The 56-year-old Russian-born doctor is a renowned celebrity plastic surgeon in Miami. According to his practice's website (opens in new tab), for over 20 years he has focused his career on "primary and revision breast augmentation surgeries," and he's done over 27,000 breast surgeries. The quality of his work has led to him being featured in other shows such as High Price of Fame: Under the Knife and National Geographic's Botox.
Interestingly enough, one of his patients is none other than Kim Biermann (opens in new tab). For Bravoholics, they'll instantly recognize that name as Kim served as a star on The Real Housewives of Atlanta for years.
How did Lenny Hochstein anger Real Housewives of Miami fans?
For starters, at Lisa and Lenny's Good Vibes party, the latter had a now-infamous hot-mic moment. Not only did he mention that he hoped to be single soon, but he also alluded to the fact he was already involved with someone else. If you want the full blow-by-blow of that conversation, take a look for yourself at the clip below.
Then in episode 5, titled "Destination: Divorce," Lisa was on the phone with Lenny and told him he may need to forgo playing tennis to go home and relieve their temporary nanny who had come down with an illness. Instead of just saying okay, he was adamant that Lisa exhaust every other option for childcare first, as he really wanted to play tennis. The response angered his wife and baffled viewers.
Viewers' opinion of Lenny's behavior sank even further when Lisa told the RHOM cast "I don't think my marriage is going to survive, I think it's over." When pressed why she believed that, Lisa alleged Lenny told her he was dating someone else and the woman in question will be his girlfriend soon. Further shocking her castmates and fans, Lisa claimed the mistress had attended parties at the Hochstein home.
The straw that broke the metaphorical camel's back was Lisa stating that Lenny then told her "you need to go find a home for you and the kids." The audience's visceral reaction rivaled Marysol and Alexei, who were particularly irate by the confession.
Real Housewives of Miami fans react to Lenny Hochstein's season 5 behavior
If Lenny is searching for a fan club, he will be hard-pressed to find one among the RHOM season 5 viewers. Check out what they've been saying on Twitter.
The Real Housewives of Miami is now streaming on Peacock with new episodes debuting on Thursdays.
Get the latest updates, reviews and unmissable series to watch and more!
Terrell Smith has a diverse writing background having penned material for a wide array of clients including the federal government and Bravo television personalities. When he's not writing as Terrell, he's writing under his pseudonym Tavion Scott, creating scripts for his audio drama podcasts. Terrell is a huge fan of great storytelling when it comes to television and film. Some of his favorite shows include The Crown, WandaVision, Abbot Elementary and Godfather of Harlem. And a fun fact is he's completely dialed into the TLC 90 Day Fiancé universe.
Thank you for signing up to Whattowatch. You will receive a verification email shortly.
There was a problem. Please refresh the page and try again.