Who is Otter on The Masked Singer UK?
Who is Otter in The Masked Singer UK? Here are our best guesses so far...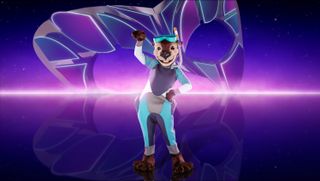 (Image credit: ITV Plc/Bandicoot TV)
Who is Otter on The Masked Singer UK?
The Masked Singer UK season 4 is officially underway, and Otter is just one of the many crazy new characters in this year's lineup.
Celebrity judge Mo Gilligan has admitted that Otter is one of his personal favorite characters in the new series, and the mystery celeb certainly made a splash with their second performance of the series!
Here's what we know about Otter so far, and our best guesses at some of the celebrities who could be wearing the mask.
Who is Otter on The Masked Singer UK? Songs
Otter dove right in with a rendition of the Baywatch theme song, 'I'm Always There' in week one.
Otter sang 'Reflection' from Mulan in week three.
Who is Otter in The Masked Singer UK? Show clues
There were plenty of intriguing clues to pay attention to in Otter's first video clue package. Interesting things to note include the warning sign at the water park spelling out the initials RADA, for the acting school, a shamrock on a lifesaving ring in plain view, the character appearing alongside a vicar and their admission that we're normally used to seeing the celeb inside in more serious roles.
Some of the popular guesses online have included Emma Thompson and Penny Mordaunt. Also, there's a very popular theory that the singer could be Kate Bush as they think Otter's voice is a very good match for hers!
As for Otter's riddle, it didn't give too much away: "Children, some say, should be seen and not heard, but of this otter, I'd say the opposite is the word." Perhaps it's someone who's been out of the limelight for a while?
In week three, Otter's clue package saw them pull out a number of props from a lost property locker, including a witch's hat, a witch's nose and a broom.
"You might remember me from something a little bit medical sounding," was another clue given by Otter. Fans think that this clue could relate to Doc Martin and now believe that Otter could be Daisy May Cooper as she had a role in the medical drama during her early acting career.
Other clues included a policeman's hat and a receipt with Kim K on. Otter also teased: "There's an emotion that I'm good at getting out of people, even when I don't intend to and that can happen on any day of the week." Could Otter be a comedian?
For their Clue or False, Otter's two clues were: "Let's hit that red button and do the time warp" and "My past record might say I've been butterfingered around chocolate." The audience were convinced that clue number one was true.
Who is Otter on The Masked Singer UK? Verbal clues
The verbal clue we had about Otter before the show started was: "Ready to blow us all out the water - it's Otter!"
Being "ready to blow us out of the water", we thought that this masked star had to be involved with the water in some fashion. This makes us think that the mystery celeb in the costume could well be a successful swimmer like two-time Olympic gold medallist Rebecca Adlington. Tom Daley also fits the bill here, but we thought he'd be a better fit as a solid guess for Knitting instead!
Who is Otter on The Masked Singer UK? Costume clues
The wetsuit and snorkel gave us an even stronger impression that this particular celebrity can be found in or around the water, but perhaps they don't have to be a swimmer. It could be a sports presenter who's covered competitive swimming in the past like Gabby Logan, or maybe they're interested in fishing like Paul Whitehouse or Jeremy Wade.
If Otter's get-up isn't the big clue, then we think someone from the world of UK wildlife shows like Springwatch or Autumnwatch would seem the next obvious choice; who else shares such a strong connection to Otters? Well, Ewan McGregor also loves otters (opens in new tab) as anyone who's seen the viral clip of him in a nature documentary will know... maybe Obi-Wan Kenobi will be swapping his lightsaber for a microphone for The Masked Singer?
We will expect to see more costume clues when Otter performs again, so be sure to check back here after their performances to see if there's anything else we can use to crack their identity.
The Masked Singer UK season 4 continues Saturdays at 7 pm on ITV1 and ITVX.
Get the latest updates, reviews and unmissable series to watch and more!
Staff Writer at WhatToWatch.com
Martin is a Staff Writer with WhatToWatch.com, where he produces a variety of articles focused on the latest and greatest films and TV shows.
Some of his favorite shows are What We Do In The Shadows, Bridgerton, Gangs of London, The Witcher, Doctor Who, and Ghosts. When he's not watching TV or at the movies, Martin's probably still in front of a screen playing the latest video games, reading, or watching the NFL.
Thank you for signing up to Whattowatch. You will receive a verification email shortly.
There was a problem. Please refresh the page and try again.