Cindy can't believe she has ANOTHER stalker, reveals Hollyoaks' Steph Waring!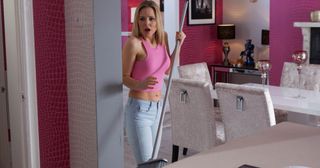 Hollyoaks' Cindy Cunningham is ready for battle when someone breaks in to her home says star Steph Waring…
With DS Gavin Armstrong safely out of town, Cindy Cunningham had hoped life in Hollyoaks might return to normal for her. But the stalking horror continues and she's getting increasingly paranoid! Is it the mad copper or is somebody else trying to scare her?
"She's terrified," actress Steph Waring told Soaplife. "Will the situation improve when her beloved sister, Mandy Cunningham, shows up?"
Who does Cindy think is stalking her? "She thinks it's still Armstrong because he is out there somewhere and she wouldn't put it past him. He did say he'd never forget her and she thinks he might be trying to reach out to her in some kind of a way. She doesn't consider it could be another person."
Tell us about the mystery phone call she gets… "The phone rings and the voice on the other end of the line is distorted. She can't actually make out who it is and it freaks her out. It's really creepy."
How does she react? "She's always on edge now. When the phone rings or she hears anything. With everything she's been through, with the bi-polar rearing its ugly head again, this is not helping. She's more anxious than ever."
Does she confide in anyone? "She tells Dirk, but he thinks she isn't taking her medication and she's getting confused. He doesn't think it's as serious as Cindy believes it to be."
What happens when she hears somebody break in? "There's a figure at the back door and the person is trying to get in. She calls Dirk. Before he gets there, though, the door opens and Cindy attacks the intruder with a broom."
Who is it? "You'll have to wait and see…"
What does Cindy think about Mandy being back? "She's thrilled. They're sisters and Mandy hasn't kept in touch like she said she would. It's so nice for Cindy to have a familiar face in the village when she's having such a tough time."
What does she think when Mandy reveals she has kidnapped her own daughter from foster care? "She's shocked, but it takes her mind off her own problems for a while. Cindy naturally wants to help Mandy, who's terrified of being caught by the police and Cindy will do anything to help. She's sad to see her sister isn't as together as she was when she left the village."
Is there more misery to come for Cindy? "I can't tell you what happens, but there are some happier times ahead! Her bi-polar is under control, Mandy is back and the future is much brighter."
Get the latest updates, reviews and unmissable series to watch and more!
Thank you for signing up to Whattowatch. You will receive a verification email shortly.
There was a problem. Please refresh the page and try again.