Guilt overload! Holly kisses Nathan in Hollyoaks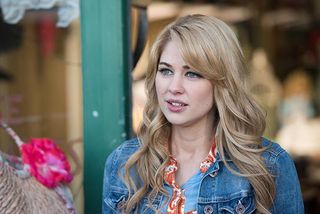 Ever since the fatal car crash in which Rachel was killed, Holly's lies have been spiralling out of control in (opens in new tab)Hollyoaks...
Poor Cleo has already taken the rap and pretended it was her behind the wheel the night of the collision, when in fact we all know it was her chum, Holly, in the driving seat. Meanwhile, heartbroken Nathan is still grieving, having lost his girlfriend in the grisly smash.
Holly, wracked with guilt, continues to grow closer to Nathan in upcoming episodes. It's clear the pair of them have a natural bond, but is Holly playing with fire? How would Nathan ever cope if he knew it was her who caused Rachel's death?
Holly and Nathan go to the movie night being held at The Dog. Nathan's head is still all over the place and it's Holly who's there to comfort him.
The pair have a heart to heart and Nathan's soothed by Holly's kind words. One thing leads to another and in the heat of the moment the two of them lean in for a kiss. Bad move!
Marnie and Ellie are surprised to spot the couple getting intimate. Surely this is a very bad idea indeed. Is Nathan heading for yet more heartbreak? And is Holly going to be exposed as Rachel's real killer?
Watch Hollyoaks on Channel 4, from Monday, May 30
Get the What to Watch Newsletter
The latest updates, reviews and unmissable series to watch and more!