Hollyoaks' Anna Passey: 'Sienna hits Dodger with a spanner and drags him down into the basement!'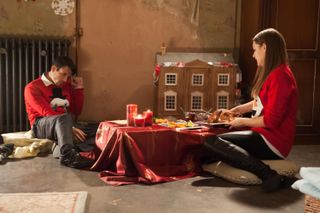 Sienna pulls her maddest stunt yet to ensure she, Nico and Dodger enjoy the 'perfect' family Christmas, reveals Hollyoaks (opens in new tab)' Anna Passey…
Sienna's about to get the Christmas she dreams of: there are mince pies, sparkly lights and, most importantly, her daughter, Nico, and her brother, Dodger, are in attendance. There's just one small problem: poor Dodger (Danny Mac (opens in new tab)) is handcuffed to a radiator and is only enjoying festive 'fun' with his twin because she's got him locked up in the basement of her mum's old house.
"It's completely bonkers," laughs Anna (opens in new tab). "But Sienna's not really aware of what she's doing. She thinks everything is wonderful. It's quite haunting and creepy."
Dodger isn't being a doting dad to Nico… Has this upset Sienna?
"She really can't understand why he isn't stepping up and being a father to Nico [Persephone Swales-Dawson (opens in new tab)]. She's besotted with Dodger, he loves her and they have this brilliant child. She can't understand why that wouldn't work as a family unit. She believes it would all be perfect if only he'd play ball."
How does she try and change his mind?
"She thinks if she gets Dodger and Maxine [Nikki Sanderson (opens in new tab)] apart, he'll have more time for Nico. Firstly, she suggests to Nico that Dodger is cheating on Maxine, knowing Nico will confront him and she kidnaps Minnie and gives her to Patrick. Obviously, neither strategy works!"
Why doesn't she tell Nico who her real dad is?
"She doesn't want Nico to know her uncle is her father. But, on the other hand, Nico doesn't understand why Dodger doesn't want anything to do with her any more. It all gets really complicated because Dodger knows he's the father, so do Sienna and Patrick [Jeremy Sheffield (opens in new tab)], and they're all trying to keep it a secret."
Does Nico work out the truth?
"She does some detective work and finds a Christmas card. There's something in it that makes her think Patrick is her father. Poor Nico finds it all too much and tells Sienna she wants to go back into care."
Is that when Sienna snaps?
"Yes, she believes she's about to lose her daughter and Dodger. When Dodger turns round and tells Sienna he'll never be a dad to Nico, she's desperate to bring them together… so she hits him over the head with a spanner and drags him down into the basement."
What does Nico make of that?
"Nico's in on it at first. She's pleased because at least now she can have some answers, but she does see something has gone terribly wrong with her mum."
Does Sienna try and pretend it's a normal Christmas?
"Yes, she's singing carols, decking the tree and feeding everyone mince pies. It's as if they're in this mini snow globe. Nobody else in soap will be having a Christmas quite like Sienna's."
Is it going to end badly?
"Well, I can't see a happy ending!"
Hollyoaks (opens in new tab), Channel 4. Click here (opens in new tab) for dates and times.
Thank you for signing up to Whattowatch. You will receive a verification email shortly.
There was a problem. Please refresh the page and try again.