Hollyoaks Cindy and Tony's happiness short-lived?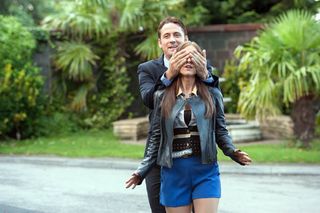 Hollyoaks star Stephanie Waring has hinted that Cindy Longford and Tony Hutchinson's happiness may be short-lived, even if they survive their wedding day. The 34-year-old actress admitted that their relationship could be doomed because her alter-ego seems to have fallen for Rhys Ashworth (Andrew Moss) during their recent fling. Tony (Nick Pickard) continues with the wedding plans despite finding out about the affair, and has decided not to embarrass Cindy by publically exposing her cheating ways. However, he spots his new wife preparing to run away with Rhys at the reception - before a mini-bus ploughs into the venue. "At the wedding, Rhys has decided to leave Hollyoaks and asks Cindy to go with him," Steph told All About Soap. "Her head is saying stay with Tony, but her heart belongs to Rhys. She makes the choice to run away with Rhys, and Tony spots them - just as she looks up and sees the bus coming right for them!" She continued: "There'd be a lot of repercussions following her decision to run away with Rhys on her wedding day. She has a load of secrets. "I don't know if she and Tony could have a happy marriage. I'm not sure they can recover from her leaving Tony for another man on their wedding day. It's unforgivable and the final nail in the coffin."
Get the latest updates, reviews and unmissable series to watch and more!
Thank you for signing up to Whattowatch. You will receive a verification email shortly.
There was a problem. Please refresh the page and try again.