Hollyoaks' Jeremy Sheffield says Patrick is hell-bent on making Maxine suffer like he is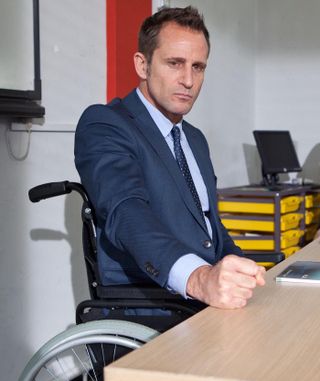 Suffering from Motor Neurone Disease (MND), the end is in sight for Patrick… but he's determined to make Maxine and Nico suffer too, Hollyoaks' Jeremy Sheffield explains to Soaplife...
Any normal person in the final stages of Motor Neurone Disease (MND) would be sorting out their affairs and spending precious moments with loved ones. Not Patrick Blake. Despite the fact he can barely move, he's putting an enormous amount of effort into planting evidence to frame his wife, Maxine, for his murder… once she's helped him to die.
"He's not very physically able, but he's still a bitter and twisted man," Jeremy (opens in new tab) says. "He loves Maxine deeply, but it's from a twisted place and he feels utterly betrayed by her."
Will his evil plot succeed?
Confined to a wheelchair and wasting away, where does Patrick find the energy to be so evil?
"Our director had a neighbour with MND, who became even more vicious when he got the disease. All his frustration and fears came out in aggression, which is what is happening with Patrick. With him, it's about being in control. I had feared that he was going to be redeemed, but his nasty, scheming side has come out full throttle. He's a bitter and twisted man. He loves Maxine [Nikki Sanderson (opens in new tab)] deeply, but it's from a twisted place and he feels utterly betrayed by her."
Why can't Maxine see what he's doing?
"She's one of those nurturing people. She's angelic and, even though there are moments when she finds clues, perhaps a tape that suggests he's suspicious of her seeing Darren [Ashley Taylor Dawson (opens in new tab)], Patrick manages to win her back over with his manipulative ways. She loves him and it's not uncommon for people to want to stay with their abuser."
What does he think when Maxine suggests they renew their vows?
"That's perfect for him. He wants it to look as if everything is hunky dory with them to the outside world. However, he's leaving clues that suggest he's having to play along, being forced to make out that everything is perfect because he's too weak and disabled."
What exactly does he do?
"He falls out of his chair and screams. When Jason [Alfie Brown-Sykes (opens in new tab)] rushes to his aid and is suspicious, Patrick says, 'I just fell'. But he's sewing seeds of doubt in Jason's mind."
Why has he got it in for Nico, too?
"He has different motives with her. He wants Sienna [Anna Passey (opens in new tab)] to be safe after he has gone and he wants to protect her. He goes to Ben [Ben Richards (opens in new tab)] to make sure he'll be there to keep her safe, but he doesn't say why. One of his ideas is to send Nico [Persephone Swales-Dawson (opens in new tab)] off to boarding school, but Sienna won't go along with that. Eventually, he goes a whole extra step. But it will come back to bite him later down the line."
Does he feel sad about his imminent death?
"Yes, although there's the pleasure he gets from his manipulation working, he's sad he isn't going to be here very long and that he'll have to say goodbye to his beautiful daughter."
How long has he got?
"He'll die early next year."
Hollyoaks (opens in new tab), C4.
Thank you for signing up to Whattowatch. You will receive a verification email shortly.
There was a problem. Please refresh the page and try again.