Hollyoaks Kieron Richardson: 'John Paul proposes, but Ste realises Harry's there too!'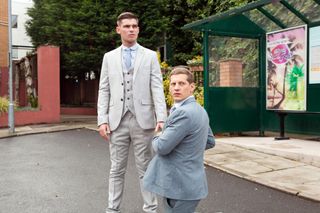 Will Ste choose estranged husband John Paul, teen lover Harry - or more booze and drugs? Hollyoaks' Kieron Richardson (opens in new tab) reveals all to Soaplife…
Drug addict Ste is in a bad way in the run-up to Christmas. After being beaten up by a dealer, he spends the night sleeping outdoors, he hasn't taken his HIV medication, he's using drugs, he's drinking too much and he doesn't know which lover to choose: John Paul or Harry?
"Yet again, Ste's feeling isolated," Kieron says. "He always chooses the wrong path and this Christmas he has to face the consequences."
Who finds Ste after he's been sleeping rough?
"Ziggy [Fabrizio Santino (opens in new tab)] and Celine [Sarah George (opens in new tab)] find him. He's taken to hospital and he's told how dangerous it is for him not to take his medication. His life is totally out of control."
He tells Harry he'll kick the booze and drugs. Will he?
"He's said it many times, so I don't believe he truly means it. However, there's a moment where he thinks 'Yeah, I'm going to take control' because he knows, at this rate, he'll have no kids, no family and no Harry in his life."
What happens when he decides to sort himself out?
"It goes horribly wrong. He's about to throw away his cocaine when the police knock on the door. What Harry [Parry Glasspool (opens in new tab)] doesn't know is Tony [Nick Pickard (opens in new tab)] called the police because having Ste put away is the only way Tony can keep him away from his son."
And what about John Paul?
"They have this pact where, if they still love each other on Christmas Day, they're going to meet up and try to make a go of things. John Paul [James Sutton (opens in new tab)] is a super nice guy and the sort of man Ste should choose. But he isn't in the right state of mind to pick the guy he wants to be with."
How does Ste feel about Harry getting a football scholarship in California?
"Initially, Harry doesn't tell him about it. Ste knows he's meeting this guy called Chad, who's helping him to get the scholarship."
Describe the scene when Ste meets John Paul at the archway…
"John Paul gets down on one knee, but Ste realises Harry is there, looking shocked. When they're both stood in front of Ste, he feels really confused. He can't decide, but one of them gives him some advice about what to do."
Will Ste have a happy Christmas and New Year?
"Not really. His problems will continue. He won't be able to conquer his addictions that easily and I'm glad about that. This is my first proper acting gig and I'm up for the challenge. Our director says Ste's been having a 10-year nervous breakdown and it's set to continue."
Hollyoaks (opens in new tab), Channel 4
Thank you for signing up to Whattowatch. You will receive a verification email shortly.
There was a problem. Please refresh the page and try again.