How low can you go? Peri defaces Jade's locker in Hollyoaks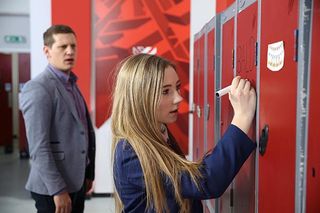 When Peri finds out Tom and Jade are a couple in (opens in new tab)Hollyoaks she's riddled with jealousy and takes out her anger by vandalising Jade's locker next week.
The furious teen scrawls 'Bald Bitch' in big black letters to cause maximum upset to Jade, who's suffering from Hodgkin Lymphoma and has lost all her hair during chemo.
Earlier, Alfie dumps Jade after getting some worrying news about his health. He doesn't want to put her through any more suffering, but Jade is gutted and can't understand why she's been ditched. She decides to ask Tom out, but does she have an ulterior motive? Tom is taken aback when Jade makes a move on him
Meanwhile, Peri is gutted when she hears the rumour her ex and Jade are seeing each other. She's heartbroken and tells Tom she still loves him, before taking out her rage on Jade's locker.
John Paul is horrified when he spots the pupil mid-crime. But has Peri - played by British Soap Award winner Ruby O'Donnell (opens in new tab) – got the wrong idea about Tom and Jade? Things might not be quite what they seem!
John Paul is disgusted to see Peri's cruel handiwork.
How will he deal with the trouble-making teen?
Later, Tom finds Alfie furiously trying to scrub the graffiti off Jade's locker. It's obvious Jade and Alfie still like each other, so what is Jade doing with Tom?
Watch Hollyoaks on Channel 4 from Monday, June 20
Thank you for signing up to Whattowatch. You will receive a verification email shortly.
There was a problem. Please refresh the page and try again.