'I think I might have done something really bad,' says Cleo - after paedophile Pete assaults her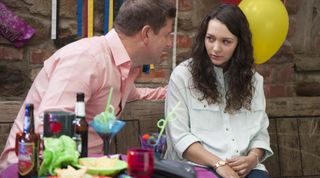 Watching paedophile Pete Buchanan (Kai Owen) with his victim, schoolgirl Cleo McQueen (Nadine Mulkerrin), is extremely uncomfortable. You can sense how Cleo feels helpless and trapped and it's all too sickeningly clear just how master of manipulation Pete is taking advantage of that.
In Friday night's E4 episode, after pervert Pete has sexually assaulted Cleo, the daughter of his fiancée, Reenie (Zoe Lucker), the tearful schoolgirl is shown at Porsche's birthday party, saying to her sister Celine (Sarah George): "I think I might have done something really bad."
She hasn't. Pete has.
But before Cleo can say any more, a drunken Porsche (Twinnie-Lee Moore) reveals to her party guests that Cleo has a morning-after pill leaflet in her bag.
What's that all about? That's what Porsche wants to know. Will Cleo finally reveal that Pete has been doing to her exactly what he did to Porsche?
While viewers will have to wait until Monday's episode to see what happens next, the Hollyoaks cast have been talking about tackling such a sensitive issue…
Nadine said that working with Kai was enjoyable, despite the dark subject matter: "It's such a weird one because he is so lovely and we are friends and I enjoy working with him.
"It sounds bizarre, but I enjoy working with him because he's brilliant, we work well together, and the scenes are electric – and you just feel like you're doing some good gritty stuff you can get your teeth into."
Pete Buchanan and Cleo McQueen (Lime Pictures)
The script was developed in conjunction with the NSPCC, and the cast also met with survivors of childhood sexual abuse to learn about the topic and listen to their stories.
Twinnie-Lee was deeply affected by the meeting. "You do really feel for these people because – well, they're children. Somebody can take away your childhood and that's it gone, and you live with that for ever," she said.
Torchwood star Kai knew about Pete's storyline before he auditioned for the part, but still wanted the role.
Kai Owen as Pete in Hollyoaks (Lime Pictures)
"I thought, 'Wow that's heavy stuff'," the 33-year-old explained. "But I knew straight away that I wanted to tell the story, and I knew straight away that I wanted to get it out there.
"I knew exactly how I wanted to play him… this nice guy, this charming guy who manipulates everybody into thinking that he's a lovely guy and would do anything for anybody, whilst having all these dark secrets. It's a dark place to go to, but I have a very good support team around me."
After Friday night's epiosde, Kai tweeted:
"Thanks for your comments tonight guys. Tough viewing!! But I'm so passionate to get the story out there." #Hollyoaks @NSPCC x
— Kai Owen (@KaiKaiOwen) August 13, 2015
The Hollyoaks storyline is running alongside a campaign, #NoMoreSecrets, urging abuse victims to speak out and get the help they need.
"Statistically, there's probably a family out there going through exactly what the McQueens are going through with Pete now," Kai said. "And if we get one person to speak out, if we get one person to confess their secrets, then we've nailed it."
Meanwhile, viewers are waiting, desperate for Cleo to turn to someone who can help her escape Pete's clutches…
"There's still a long way to go with the story," said Hollyoaks boss Bryan Kirkwood recently. "But the right thing will happen in the end."
Hollyoaks continues on Channel 4, Monday, August 17, 6.30pm.
Get the latest updates, reviews and unmissable series to watch and more!
Thank you for signing up to Whattowatch. You will receive a verification email shortly.
There was a problem. Please refresh the page and try again.