Mac can't stay away from Lisa, says Hollyoaks' David Easter – and she's marrying his son!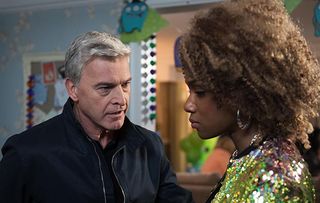 Mac Nightingale's steamy fling with son Nathan's girlfriend Lisa Loveday is losing none of its heat – even after Lisa agrees to marry Nathan!
Mac Nightingale does love a younger woman, but carrying on with son Nathan's girlfriend Lisa Loveday is a step too far. Nathan has no idea that Lisa is cheating on him and he is so certain she's the one, he proposes.
"Mac feels terrible," David Easter tells Soaplife. "He's in torment, but the thing with Lisa is a total distraction from Marnie. It makes him feel good about himself and I think, at the end of the day, he just can't help himself."
Why would a father do such a terrible thing to his own son? "It's just the way Mac is. Marnie has said a few times that, back in the day, he regularly went astray. He's a serial cheater."
It's a bit messed up though, isn't it? "I know. When the Nightingales came into Hollyoaks, they were a nice family with lovely jumpers and I think it's brilliant that they've turned into this mad, crazy and dysfunctional bunch. I love being part of such a weird family on screen. I like the fact they're not shiny and perfect. All the best characters have flaws – and Mac has many!"
Is he afraid of getting caught out? "Mac loves flirting with danger. Nathan [Jared Garfield] and Lisa's relationship is safe and lovely, but she's a rebel with a cause and she likes a challenge, too. Mac did tell Lisa [Rachel Adedeji] that he'd given up danger, but of course he hasn't. He knows that if he gets caught there'll be hell to pay. I'm sure the proverbial's going to hit the fan at some point and Marnie will not take it lying down."
What about when Nathan proposes to Lisa? "Mac's shocked. He loves Nathan and knows he's doing wrong. Mac does have sleepless nights about it, but he carries on seeing Lisa."
What's it like working with such an iconic actress as Linda Gray, who plays Marnie's mum, Tabby Maxwell-Brown? "She's just lovely. I grew up watching Dallas! We're very good friends now and email each other regularly. She's a very special lady and we all love her very much here."
You must also enjoy working with Lysette Anthony, who plays Marnie… "Lysette and I clicked from the first day we met. Mac and Marnie works. It sounds like it should be a musical, doesn't it? Mac and Marnie. There wouldn't be any love songs, though – just screaming and shouting!"
Hollyoaks, Channel 4
Get the latest updates, reviews and unmissable series to watch and more!
Thank you for signing up to Whattowatch. You will receive a verification email shortly.
There was a problem. Please refresh the page and try again.