Yasmine's sister Farrah causes a stir when she arrives in Hollyoaks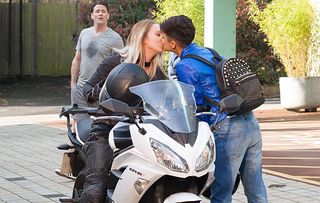 There's a feisty new arrival in Hollyoaks as Yasmine's sister makes a dramatic entrance...
Yasmine is taken-aback when her big sis roars into Hollyoaks village on the back of a motorbike. And Tony is pretty too when he sees the newcomer hop off the bike, remove her leather jacket to show an arm full of tattoos and proceed to lock lips with the female rider.
It looks like Yasmine's sister, Farrah, who is a clinical psychologist and has recently landed a job at the hospital, is going to cause quite a stir. But what will Yasmine make of the sudden arrival? And which lucky ladies will she set her sights on?
farrah
Watch out ladies and gents, there's a new face in town!....
farrah
Watch out ladies and gents, there's a new face in town!....
Farrah rocks up in Hollyoaks and looks pleased to be there, but will everyone feel the same way?
She hops off the back of a motorbike as her shocked sister looks on from afar.
Tony certainly seems intrigued by the newcomer, especially when she leans in to give the woman a big kiss.
Meanwhile, Esther and Yasmine are slightly surprised by the sudden arrival...
How is psychologist Farrah going to settle into Hollyoaks as she starts a new phase in her life? And is Yasmine pleased to see her or are there some skeletons from the past that she's worried about? Watch Hollyoaks on Channel 4 from Monday 5 June.
Get the What to Watch Newsletter
The latest updates, reviews and unmissable series to watch and more!