VJ catches Skye and Tank together in Home and Away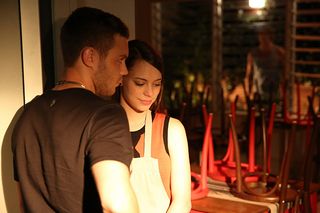 Skye must REALLY like Tank. She's had practically everyone in Home and Away (opens in new tab) warning her off the notorious bad boy, but she's clearly not too fazed by his chequered past.
As the pair grow closer, Skye makes the first move and the two of them enjoy a kiss in the Diner. VJ is alarmed when he walks past the window and catches the couple locked in a tender embrace. Meanwhile, when Tank's ex, Olivia, finds out, she begs Skye not to get mixed up with Tank and warns her it's only a matter of time before he shows his true, sinister colours.
But Skye is adamant he's a changed man and his trouble-making days are well and truly over. Hah! What does she know?
Skye and Tank enjoy some time alone in the Diner. But who's that at the window?
VJ has clocked the pair and he doesn't like what he sees one little bit!
Tank and Skye enjoy a kiss. Skye is clearly into this guy, but does he feel the same way?
Alarm bells are ringing loudly for VJ as he spots them together. Can anyone make Skye see sense before she gets even more tangled up in manipulative Tank's murky life?
Watch Home and Away on Channel 5, from Monday, June 13.
Thank you for signing up to Whattowatch. You will receive a verification email shortly.
There was a problem. Please refresh the page and try again.