Ash is arrested by Kat in Home and Away!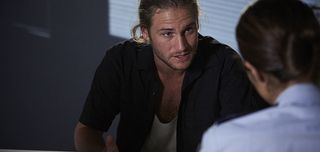 When Kat catches Ash in the middle of what appears to be a drug deal, she's forced to throw him behind bars…
After catching Ash in dealings with a dodgy crim, Kat gives chase. But the crook escapes her, leaving Ash to feel the heat of her questions in Home and Away. When he refuses to divulge any information about what was going on, Kat warns Ash their conversation is far from over.
And she's not lying as, later, Kat hauls Ash down to the police station after discovering the criminal he had been talking to was a known drug-dealer, Simmo...
Ash finds himself behind bars when he's caught doing a dodgy deal…
It's Kat who's caught him out and she has no option but to take Ash to the station when he refuses to open up about what he was up to.
Having found out Ash was hanging out with a known drug dealer, Kat wants answers…
After a day's interrogation from Kat and McCarthy, Ash refuses to answer any more questions.
After being thrown in the lock up, Ash is given an ultimatum by Kat: help the police get drug dealer Simmo or he's staying behind bars… Watch Home and Away on Channel 5 from Monday, November 7
Get the latest updates, reviews and unmissable series to watch and more!
Thank you for signing up to Whattowatch. You will receive a verification email shortly.
There was a problem. Please refresh the page and try again.