He's alive! A missing Oscar is found in Home and Away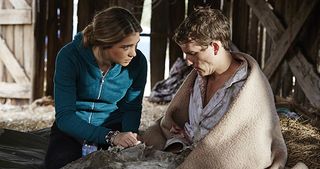 Runaway Billie saves the day
As his friends and family fear the worst, Oscar's found on the beach by runaway Billie…
Oscar's been missing since the night of the school dance when he broke-up with his girlfriend, Maddy, and his friends and family are worried sick…
But little do they know, Oscar's body has washed-up on the beach after the storm. But is he still alive?
Surf Club boss Alf tells Oscar's family to have hope, as they've found plenty of missing people in the past. But Oscar's twin, Evie, is seriously worried…
However, as Oscar lies on the beach, someone comes across him…
Oscar is pulled into a shack near the beach. But where are they?
Oscar is dragged along the beach by his rescuer, who gives him water and tries to revive him
As Oscar wakes up, he comes face-to-face with Ash's runaway sister, Billie!
Oscar can't believe he's in Billie's hands. The last time he saw her was during the fire at Leah's house, when he and Matt were trapped inside
Billie tells Oscar he can believe the rumours if he wants. But she is innocent of arson
Billie tends to Oscar's injuries and tells him how she has been living rough since she did a runner from the Bay
Oscar wonders why Billie doesn't come back to the Bay and face the music. Doesn't she want to see her big brother, Ash?
But Billie is more concerned with reuniting Oscar with his missing family. So she decides to call the police station and tell them where Oscar is
However, Billie decides not to reveal her true idenity when policewoman Kat wonders who is calling. Will Billie pack up her bags and hit the road again?
Oscar will soon be reunited with his family. Will Billie decide to stay to prove her innocence? Find out in Home and Away from Monday 7 March on Channel 5.
Thank you for signing up to Whattowatch. You will receive a verification email shortly.
There was a problem. Please refresh the page and try again.