Dangerous discovery! Kat and Ash learn the shocking truth about Robbo in Home And Away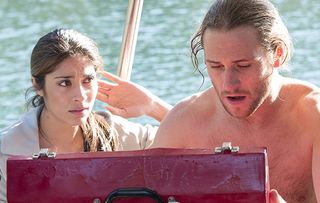 When Kat and Ash investigate, they finally learn the shocking truth about mysterious Robbo
So far Robbo thinks he's got away with murder but the net is closing in as the police continue to investigate Novak's disappearance.
In Home and Away Kat still wants to believe her lover is innocent of any crimes but her suspicions are starting to mount.
Desperate to get to the truth, she and Ash go off to investigate to see if there is a link between the raid at Novak's safe house and Robbo.
But as the pair start doing some digging, they're horrified by what they discover and Kat is floored to finally discover Robbo's true identity....
Martin 'Ash' Ashford and Kat Chapman discover what's in Robbo's red box in Home and Away.
Martin 'Ash' Ashford and Kat Chapman discover what's in Robbo's red box in Home and Away.
Earlier on a concerned Ash studies the items he found in Robbo's car: some cash and a gun. Will they throw up any clues?
He discusses the situation with Kat. Desperate to learn the truth, Kat suggests they do some digging of their own
Kat no longer knows what to make of Robbo or whether she's been right to trust him
Having decided to work together, a worried Ash warns Kat to leave Robbo until they know exactly what's going on. Meanwhile, Tori and Irene are shocked to see Kat leaving Ash's bedroom
Ash tries to get hold of Tori to explain what's going on but he can't get through to her
Kat and Ash go on the hunt for Robbo's mysterious red box which they've seen him with
They learn that it could be on the boat and head off to investigate
Ash manages to pull the box out of the water where it's been hidden by Robbo
The pair are shocked to discover it contains guns, money and a passport
But there's more...Kat is horrified when she opens the passport, looks at the photo and discovers Robbo is actually Beckett Reid!
What other dark secrets will be unearthed?
As her world unravels, a reeling Kat decides she wants to break the news of the discovery to Robbo by herself
Worried for her safety, Ash tries to convince her to steer clear but Kat has made up her mind. As she sets off to confront Robbo alone is she putting herself in terrible danger? Watch the drama unfold in Home And Away from Monday 26th February on Channel 5
Get the latest updates, reviews and unmissable series to watch and more!
Thank you for signing up to Whattowatch. You will receive a verification email shortly.
There was a problem. Please refresh the page and try again.